Early Bird
Recreational and competitive gaming on campus
Thirsty for a Strong Instructional Practice?
November 7, 2019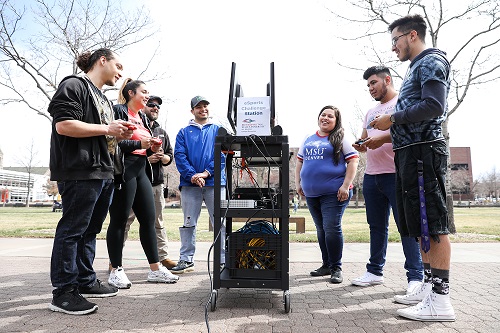 Extracurricular activities support student success, and the ever-expanding recreational and competitive gaming industry – otherwise known as esports – is another way for students to engage and get involved on campus outside the classroom. Extracurricular activities positively benefit involved students, as data shows that they tend to miss fewer classes, do better in math and reading and demonstrate better interpersonal communication skills.[1] Therefore, it is important that schools, colleges and universities offer a wide range of activities for students to participate in. Campus Recreation programs are pioneers of student engagement in higher education, but current opportunities need to be constantly evaluated. This is where esports come into – pun intended – play.
Take a SIP of this: recreational and competitive gaming on campus
Research shows that participation in esports results in several positive outcomes for competitors.
Esports foster inclusion and student success: The Pew Research Center reported in 2018 that 97% of teen boys and 84% of teen girls played video games, some of which are involved in school sports and clubs.[2] An opportunity to participate in recreational and/or competitive gaming can be a lifeline for some students who may struggle to find meaningful connections on campus. These connections formed with other students outside the classroom correlate to higher graduation rates and decreases in suffering from or spreading the harms of feeling out of touch with their campus community.
Esports enable skill development: It is not new knowledge that team sports teach valuable skills. However, the development and practice of these skills and important life lessons apply to any sport, not just the "traditional" ones, and esports teams are no exception. Esports may help a student develop these valuable skills when deficits, a lack of aptitude and/or an inability to engage in intense physical activity prevent participation in traditional team sports. Here are some examples, just to name a few:
Working with others – teamwork, collaboration, conflict management, active listening.
Social skills – interpersonal communication, eye contact, body language, hygiene, refraining from interrupting others.
Strategic thinking – goal-setting, assessing strengths and weaknesses, game-planning, execution of game plans and making on-the-fly adjustments.
Managing success and failure – learning to deal with loss, sportsmanship, respect.
Time management – balancing life, work and school, learning and applying executive functions such as organizing and scheduling practice time.
Travel skills – planning, packing, budgeting, scheduling, managing transportation and lodging, safety issues, exposure to different cultures, adaptability.
Promotion of social values – standards of behavior, codes of conduct, professionalism, honesty, persistence, healthy competition.
Esports expand college and career opportunities: Esports and STEM programs go hand-in-hand, and many of these esports student-athletes are involved in broader technology industries such as information technology, geographic information systems, computer science and mechanical engineering. Students involved in esports seemingly are a natural fit for careers in STEM fields, which are projected to offer many of the best employment opportunities available in today's market. Ninety-three of the 100 jobs defined as STEM-related by the U.S. Bureau of Labor Statistics have wages above the national average.[3] Outside of STEM careers, there is a good fit for esports-minded students in traditional sports-management fields such as marketing, finance, athletic training, recruitment, broadcasting and organizational management. The career opportunities at the professional level are set to eclipse the NBA by 2021, especially as most of the major sports leagues around the world offer professional-level esports teams as part of their formal organizations.[4]
Still thirsty? Take another SIP of recreational and competitive gaming on campus
Click the URL links below and navigate to the drop-down menus for each program area to view the full schedule of events and for more information on how to get involved with esports with Metropolitan State University of Denver Campus Recreation this semester!
Open Recreation Esports – open to all Campus Recreation members.
Intramural Esports – open to Campus Recreation student-members from the Auraria Campus.
Club Esports – open to Campus Recreation student-members from the Auraria Campus.
We are looking for an advisor our new Club Esports team! Do you have a strong knowledge of the esports industry or want to gain some experience? Being a club-sport advisor is a great way to get involved and support our student-success measures. Note: Club sport advisors must be current MSU Denver administrators or faculty members.
We are also looking to connect with faculty on collaborations, field experiences, internships and student-employment opportunities for our MSU Denver students.
For more information, please email Dave Lamothe, assistant director of sports with Campus Recreation at dlamothe@msudenver.edu.
[1] Extracurricular Participation and Student Engagement. National Center for Education Statistics, June 1995. Accessed 10.24.19.
[2] Teens, Social Media and Technology. Pew Research Center, May 2018. Accessed 10.24.19.
[3] Fayer, Stella, et al. STEM Occupations: Past, Present and Future. U.S. Bureau of Labor Statistics Jan. 2017. Accessed 10.24.2019.
[4] With Viewership and Revenue Booming, Esports Set to Compete With Traditional Sports. Whitman Syracuse University. Jan. 2019. Accessed 10.24.19.
Visit the Well for more great ideas and resources for Strong Instructional Practices in your higher-education classroom.
Topics: Best practices, Student Success
Edit this page