Early Bird
Gift cards for a great cause
The Roadrunner Food Pantry offers an easy and effective way to support the campus resource this holiday season.
November 7, 2019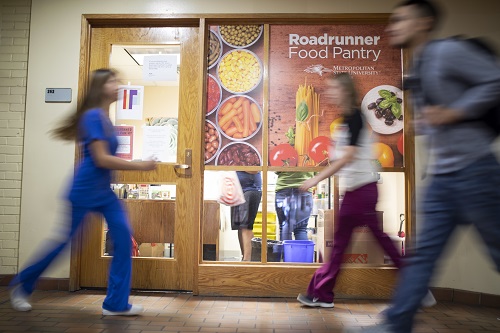 As we enter the season of giving, consider supporting the Roadrunner Food Pantry. The vital campus resource fights hunger by providing basic nutritional food for hundreds of students in times of need and relies primarily on donations from the campus and community partners.
This year, the Roadrunner Food Pantry hopes to offer 100 fall baskets (including grocery gift cards) to ensure that students experiencing food insecurity are well-nourished through the holiday break. Students can sign up for a basket through Nov. 14 by visiting the Roadrunner Food Pantry at Tivoli 262 or the Student Care Center at Tivoli 343. Baskets will be distributed Nov. 21-22 at both locations.
"We have been offering fall baskets for the last 5 years, and every year we have more students sign up," said Erica Quintana-Garcia, interim director, Student Care Center. "Any support our community can provide is greatly appreciated."
If you'd like to support the pantry's work, please visit the donation page today.
The Roadrunner Food Pantry is sponsored by Student Engagement and Wellness, the Student Government Assembly and the MSU Denver community. The Roadrunner Food Pantry is an agency partner of Food Bank of the Rockies.
Topics: Community, Events, Student Affairs, Student Success
Edit this page