Early Bird
Events roundup
Next week, support student musicians and student directors – and watch prospective Roadrunners battle with bots.
November 27, 2019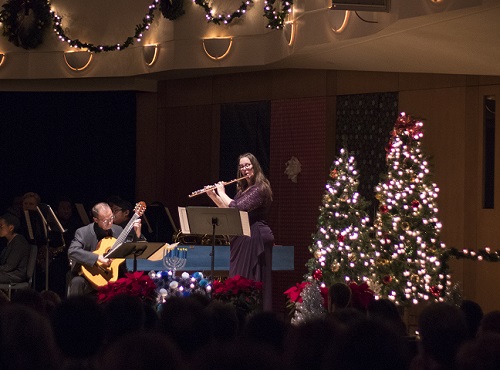 Monday
11 a.m.-2 p.m.
Tivoli Multicultural Lounge
Join the LGBTQ Student Resource Center in observing World AIDS Day. The event will commemorate those who have died, celebrate progress in eradicating AIDS and raise awareness. Resources and free STI testing will be available. For more information, please contact Steve Willich, director, LGBTQ Student Resource Center, or the Health Center at Auraria.
Dec. 4-5
7 p.m.
Arts 271
Support Intro to Directing students this week by attending one-act plays. Students in the course go through the process of choosing a play, holding auditions, casting, acquiring the rights to produce the play, directing the play, choosing costume and sound and identifying basic lights. The performances are free and open to the public. Any Metropolitan State University of Denver student, faculty or staff member is eligible to audition as well as the greater community. It is a great way to support students, see a few faculty and staff perform and have another arts and entertainment opportunity on campus. For more information, please contact Megan Euler, production manager, Theatre.
Dec. 6-7
7:30 p.m.
King Center Concert Hall
Enjoy the sounds of the season with MSU Denver's Festival Choir and Symphony Orchestra at the annual Holiday Card to the City.
Dec. 7-8
Rocky Mountain BEST Game Day 3rd Denver Regional Championship
Crowne Plaza Denver Airport Convention Center, 15500 E. 40th Ave., Denver
Rocky Mountain BEST Game Day, a robotics competition co-sponsored and co-organized by MSU Denver, on Oct. 26 brought nearly 300 students across 29 middle-school teams to campus. Teams that advanced in the competition will once again put their ingenuity to the test at the Third Annual Denver Regional Championship on Dec. 7-8. Forty teams of middle and high school students from Colorado, Kansas, Ohio, Oklahoma, Pennsylvania and South Dakota will participate to boost their engineering, science and technology skills.
Dec. 8
MSU Denver Mariachi Ensemble performance
3 p.m.
King Center Concert Hall
Topics: Events
Edit this page