Early Bird
Get involved with the Honors Program
Information sessions will help faculty learn about Honors Colloquium courses, becoming a faculty advisor and more.
November 26, 2019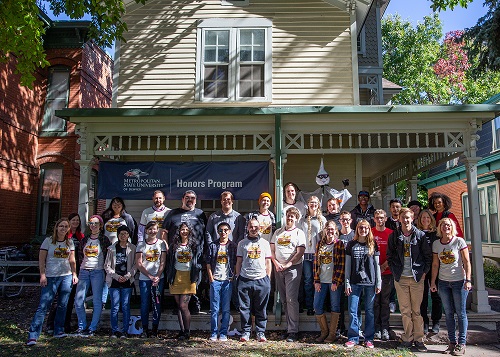 Do you have questions about the Honors Program at Metropolitan State University of Denver?
Honors Program Director Megan Hughes-Zarzo and Associate Director Samuel Jay will answer all your questions and provide additional information about MSU Denver's Honors Program at a pair of information sessions in December.
Hughes-Zarzo and Jay will offer insight into the program and how interested faculty can get involved, such as recognizing students eligible for the Honors Program and pointing them in the right direction, proposing an Honors Colloquium course or becoming a faculty advisor.
"Megan and I are excited to do some Q&A with faculty and to provide some valuable information on the Honors Program here at MSU Denver," Jay said. "It'll be a great opportunity to showcase the program and provide some insight on our goals for the future."
Sign up for a 60-minute info session Dec. 2 or Dec. 3. Each session starts at noon in Central Classroom 103. Coffee and light snacks will be provided.
Topics: Best practices, Center for Teaching, Learning and Design, Events, Student Success
Edit this page