Early Bird
Tips for staying connected to graduating Roadrunners
As MSU Denver approaches fall Commencement, the Alumni Relations team offers advice for ongoing student and alumni engagement.
November 26, 2019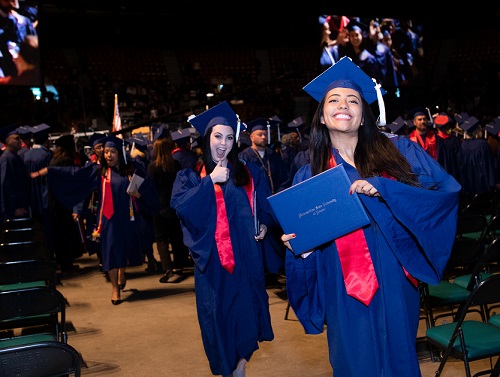 The Metropolitan State University of Denver Alumni Association supports the personal and professional growth of alumni across the city, state, country and globe. When graduates connect with the University family by volunteering, attending an event or taking advantage of professional-development opportunities, the alumni team ensures that they experience the best the University has to offer.
Additionally, we want Roadrunners to feel that they can always come home. For some alumni, however, walking across the Commencement stage marks the last contact they will have with MSU Denver.
To build strong connections with Roadrunners that will keep them involved and invest in the University, check out these tips from the Alumni Relations team and help ensure that students and alumni are always proud to Run with Us!
It starts with students – Let students know they are valued members of the Roadrunner family and campus community. Encourage them to apply for jobs in your department and across campus, volunteering and using free services such as the Writing Center.
Celebrate graduation – Recognizing graduates' achievements can yield a huge reward for the student and lifelong engagement with your department.

Create opportunities for students, faculty and staff to connect, bond and celebrate this milestone. Host a small ceremony; give outgoing students an MSU Denver-branded graduation gift; have meaningful conversations and discuss their future plans; explain to them how they can – and why they should – stay connected with the department after graduation.

Stay connected – Department outreach is critical to facilitating the Alumni Association's goal of keeping alumni engaged.

Develop an alumni e-newsletter – with the help of the Alumni Association – to keep Roadrunners in the loop. Share student and alumni news and upcoming events and remind them of the career support and lifelong learning benefits they have access to as alumni.
Encourage alumni to volunteer as an MSU Denver Admissions Ambassador and assist with student recruitment or join the MSU Denver Advisor Network to help fellow Roadrunners achieve their professional goals.
Ask alumni to join an Alumni Affinity Group or the Roadrunners Networking Group.
Invite alumni back to campus to see how we are reimagining what's possible in higher education. Ask them to speak in classes, attend an event, share their expertise with students and more.
For more suggestions for how to keep alumni engaged, contact Brandi Rideout, director of alumni relations.
Topics: Alumni, Best practices, Commencement, Community
Edit this page