Early Bird
Professor's Room: Randi Brazeau, Ph.D.
Step inside the office of the associate professor of Environmental Science.
October 8, 2019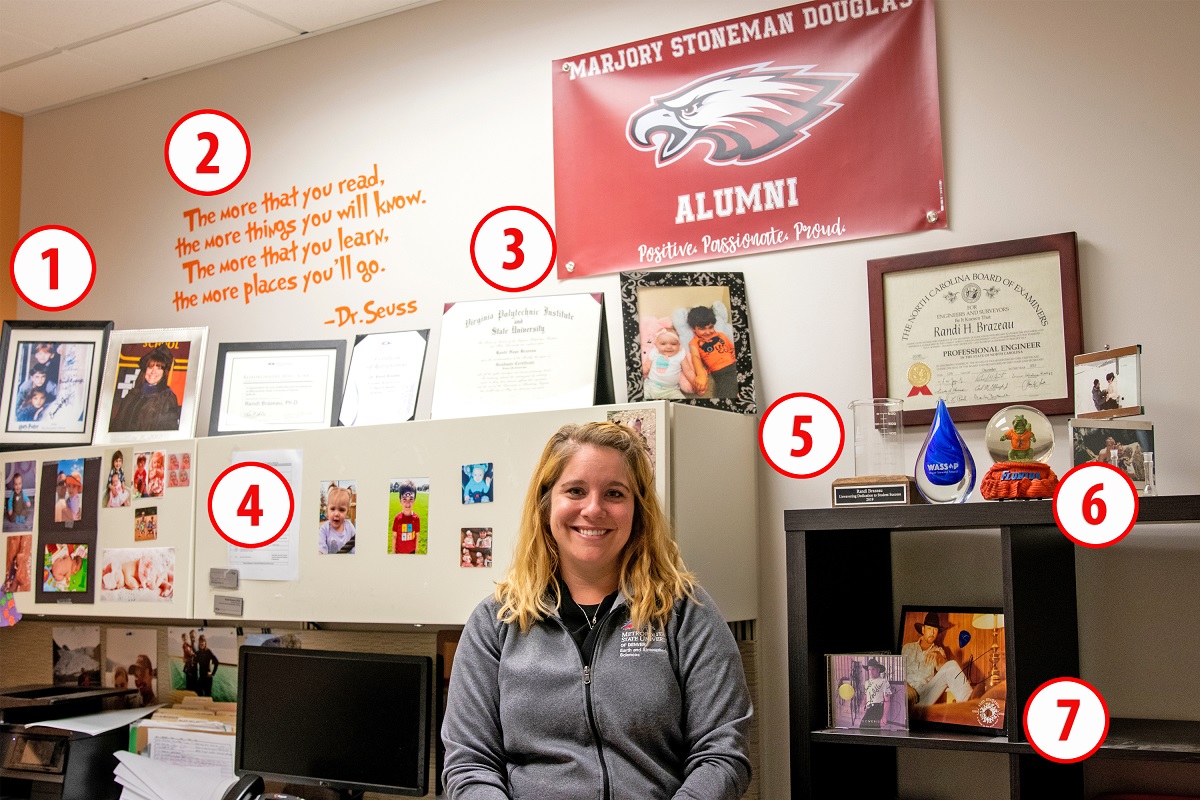 Proud Hufflepuff and self-declared water steward Randi Brazeau, Ph.D., is a master of many things. She is a civil engineer, a math whiz, an avid reader, an associate professor of Environmental Science and a faculty advisor for the College of Letters, Arts and Sciences.
In her eight-year tenure at Metropolitan State University of Denver, Brazeau has received many gifts from students and has decorated her office with reminders of her path to higher education. Visit her office in the Science Building for a vigorous discussion about environmental stewardship.
Harry Potter cast photo. My mom was a teacher when I was growing up, and she bought my brother the Harry Potter series to spark his interest in reading. It was a huge turning point for him, and what Harry Potter became for me was an escape from the daily stress of life. I've read the series over a dozen times.
"Oh, the Places You'll Go" is powerful because we learn a lot from children, and the message conveyed here is that reading opens a whole new world. I'm passionate about literacy and improving literacy worldwide, and I recognize that not everyone has the opportunity to become literate. The doors that will open when you read, I can't speak enough about that. If you read, you will learn more.
I'm an alum of Marjory Stoneman Douglas High School and Virginia Tech, which were both places of mass shootings, but when I attended these institutions, I felt completely safe. This flag and my degree are here to remind me that no one is immune to gun violence. I just want to do my little bit to support and honor those places.
Family photos remind me that I work to live and not live to work; everything I do is for my kiddos. I don't think I could get through the day without these reminders here. I have struggled not being with my family, and these photos help. I'm setting the image in (my children's) minds that if you set goals and work hard, you will be rewarded.
The water-drop award from the Water Association of Student Stewards Urban Program Club, which was the water club on campus, and I was the advisor. My students gave it to me because I am a water steward and my passion is creating a new generation of water stewards. My job is to help people understand the finite water resource we have on this planet. The beaker award was given to me by environmental-science students last spring in recognition of working with students through their process to successful graduation. It's why I do what I do.
I went to the University of Florida for undergrad and graduate school, and I bleed orange and blue (as evidenced by this Gators globe)! We are big Gator fans, and I love college football. In my house on Saturdays, the family is only allowed to watch the Florida Gators! It was an easy transition for me when I moved to Colorado as the Broncos and the Gators have the same team colors.
In high school, I listened to a lot of Tim McGraw and Garth Brooks. My boss at my first job was a huge fan of country and baseball, and when Brooks decided he was going to be a baseball player, my boss went to spring training and met him. He got a personalized autograph for me and even got Brooks to call my work and talk to me. It was a good memory. I keep these autographed pictures here as a reminder of everything I loved about school – and how my first job helped me learn the work ethic I have today.
If your faculty colleagues surround themselves with outrageous objects, alluring artwork or noteworthy knickknacks, please email earlybirdeditor@msudenver.edu with the subject line "Professor's Room" to see them featured (or to nominate yourself).
Topics: Community, Professor's Room
Edit this page