Early Bird
Process Improvement Showcase presentations are now available online
Learn how MSU Denver employees are engaging in creative problem-solving in service of student success.
October 3, 2019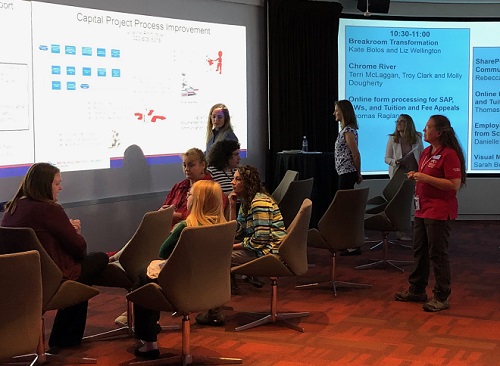 A number of Metropolitan State University of Denver employees recently presented their innovations at the Process Improvement Showcase. If you missed the event, you can now find all presentations on the Process Transformation website.
Process Improvement focuses on supporting the mission of MSU Denver by fostering the growth of a community of change agents who are engaged in creative problem-solving in service of student success. It also examines the root cause of problems to develop effective solutions and inspires a culture of continuous improvement based on humility and respect for people.
Presenters included:
Kate Bolos, HR generalist for the Talent Team, and Liz Wellington, HR generalist for Employee Experiences
Terri McLaggan, Accounts Payable manager; Troy Clark, Corporate Card administrator; and Molly Dougherty, Corporate Card administrator
Thomas Ragland, associate director for Student Conduct
Rebecca Reid, Learning and Development specialist
Danielle Farrell, Learning and Development manager
Amy Middleton, director of Social Work Student Services, Administration and Finance; and Bailee Bannon Murray, associate director of Social Work Admissions, Advising and Alumni
Joanne Ammidown, Budget/Financial analyst
Ben LeDoux, Security administrator
Chantel Richardson, Access Control, AHEC; and Katie Senga, Academic Department coordinator
Cary Aplin-Gomez, coordinator of Student Academic Success and MSU Denver Scholars; Karisa Eberly, coordinator of Scholarship, Leadership and Community Partner Programs; and Lauren Koppel, assistant director of Scholarship Support and Retention
To learn more about an area/topic, please contact the presenters to hear their stories.
Topics: Best practices, Events, Learning and development
Edit this page