Early Bird
MSU Denver's 50/50 raffle partnership has really paid off
Roadrunners raise big money to support sports teams and more. Here are the numbers.
October 29, 2019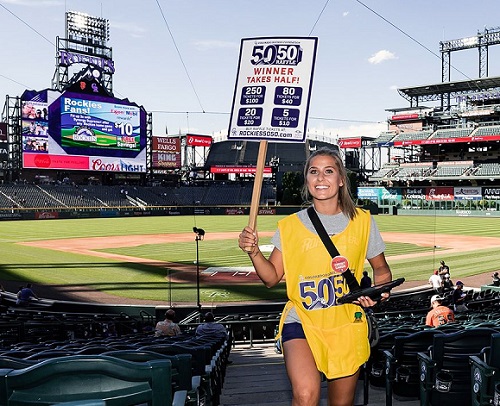 Proving that Roadrunners and Rockies make a great pair, the 50/50 Raffle continues to be a hit among baseball fans and a boon to Metropolitan State University of Denver programs. The University's Alumni Association has served as the team's nonprofit raffle partner since 2018, and to date, volunteers have raised $418,876 for University sports teams and departments.
This past season, 1,244 Roadrunners volunteered to sell tickets at Rockies home games, and Colorado fans were able to purchase raffle tickets for all home and away games online for the first time. This helped total raffle sales reach $896,349.
Here are the 2019 stats:
Raffle winners received $381,563 in total prizes.
The largest single-game jackpot awarded was $22,601.
MSU Denver received $219,027, which supported 150 groups on campus.
The women's soccer team took the prize for most money raised by a single volunteer group: $47,900.
Together, volunteers spent more than 5,500 hours at Coors Field promoting the raffle and MSU Denver.
A variety of MSU Denver programs and departments shared in the proceeds. For example, the softball team used the fundraising partnership to raise more than $55,000 across the last two seasons. Its efforts paid for a two-week team trip to Europe, where players competed against international teams and toured four countries.
In recognition of all this hard work, the Rockies hosted an on-field pre-game ceremony honoring top volunteers and sellers (who each received their own team jersey) on Sept. 16. Honorees included Nicole Thomas, alumni-relations coordinator; Dani Nelson, student-athlete, women's soccer; Jared Sinnes, student-athlete, men's club lacrosse; and Andy Thangasamy, Ph.D., associate professor, Political Science. Check out a video of the ceremony.
Thank you to the Rockies for this valuable partnership, and to Sarena Espinoza, the Rockies' 50/50 Raffle coordinator and a proud MSU Denver alumna!
Learn more about the 50/50 Raffle and learn how you can support student success while also supporting our hometown team.
Topics: Alumni, Funding
Edit this page