Early Bird
A prescription for healing
21st annual Richard T. Castro Distinguished Visiting Professor weaves Western and traditional medicine through inquiry.
October 28, 2019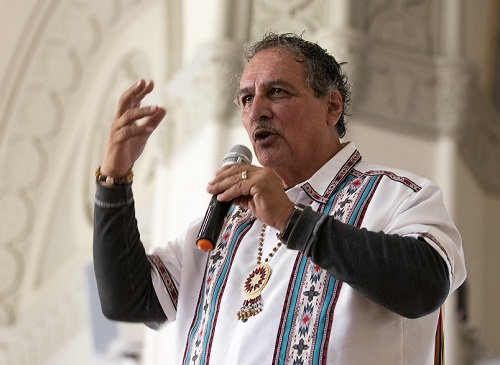 In the practice of healing, integrating Western psychology with traditional medicine presents challenges.
"The first thing you do is ask yourself, 'Why am I here? What do I need to heal inside of me?'" said Richard Carrillo, Ph.D. "We are a community – that's the most important thing – and you can't do anything for others until you take care of yourself."
Carrillo is the 2019 Richard T. Castro Distinguished Visiting Professor who engaged the Metropolitan State University of Denver community in a day of dialogue in a packed St. Cajetan's Event Center on Wednesday. The program included an opening blessing, dance and smudging ceremony with Grupo Tlaloc Danza Azteca, a keynote lecture, plática/talking circles with traditional healers and a community reception.
A Bay Area-based clinical forensic psychologist and curandero, Carrillo shared how he lives the theme "Weaving Medicines: La cultura todavía cura – The culture still heals." From a childhood fraught with violence and pain, he helps communities address inter- and intrapersonal issues using multimodal approaches.
"In Western medicine, we highlight the importance of evidence-based practice. … We also need to value what I call 'practice-based evidence.'" Carrillo said. "How does one work with the notion of sacredness – and sacredness lost?
"We've been treating this for centuries in Mexico."
Carrillo discussed the physiological response of the brain to elements of trauma and how practices such as bilateral stimulation can be effective in helping individuals along their healing journeys. Even more so, he discussed the social and communal elements that create bonds in those who have undergone trauma – and the steps necessary for recovery.
"Attachment theory tells us about the importance of saying, 'I see you; I hear you; I got you,'" Carrillo said. "Gangs understand that better than anyone. … (For healing to begin) the first thing you need to be able to do is to breathe; that allows you to be able to hold the space necessary. You have a mind, a heart, a spirit – you're a human being, not an insurance claim."
The event kicked off with introductions from Adriana Nieto, Ph.D., chair and associate professor of MSU Denver's Department of Chicana/o Studies; Michael Benitez Jr., Ph.D., vice president for the Office of Diversity and Inclusion at MSU Denver; and Ramon del Castillo, Ph.D., professor of Chicana/o Studies and chair of the flagship University event now in its 21st year.
The legacy of the professorship and its civil-rights activist namesake, Richard T. Castro, continues to inspire students of all ages, including those from MSU Denver and South High School who were in present at St. Cajetan's.
And like every great professor, Carrillo left attendees with a prompt for inquiry to carry with them out into the world.
"One thing you have to be able to answer when you're called on to serve somebody is 'Are you the one? Can I trust you?'" Carrillo said. "This is where we do the healing, the inner-child work.
"We all get older – the question is how we walk with dignity and share what we know with others."
Topics: Community, Diversity, Events
Edit this page