Early Bird
University community weighs in on provost search
Faculty and staff gathered at town-hall meetings to reflect on ideal qualities for the next chief academic officer.
October 2, 2019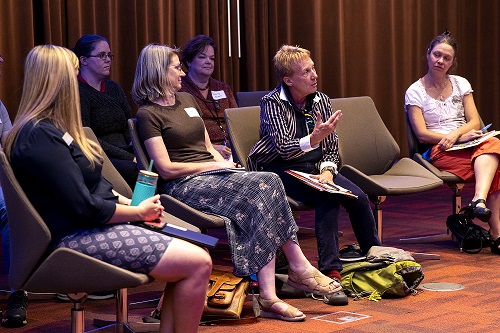 Metropolitan State University of Denver's search for a new provost kicked off last week with a listening tour. Faculty members and administrators gathered at two town halls to discuss the role and the qualities and experience our next chief academic officer should bring to the table.
In reflecting on the provost's responsibilities, many attendees noted the personal and professional qualities that Provost Vicki Golich, Ph.D., has brought to the role. She was praised for her efforts to formalize the review, tenure and promotion processes, develop online learning opportunities, and tackle structural changes such as academic-department realignment. Golich, who also was applauded for her collegiality and faculty advocacy, is helping to develop the job description and will likely assist through the transition.
In discussing ideal candidate qualities, attendees were unanimous in their desire for a traditional academic with experience in faculty and faculty-leadership roles. It was also important to many that final candidates be versed in the opportunities and challenges presented by being a modified open-enrollment university. Additionally, both groups noted the benefits of a broad skill set, a well-developed and effective management style and the ability to build relationships and rapport.
Hard skills
Attendees expressed a desire for candidates with demonstrated success in:
Interpreting education and enrollment data and identifying University-specific best practices
Managing grants and different funding streams
Navigating the development and structuring of curriculum
Managing organizational transitions such as new strategic plans, branding efforts, departmental realignments, etc.
Completing or participating in institutional accreditation processes
Understanding and responding to the evolving state/federal education landscape
Management style
Leadership, communication and effective management were also key. Specifically, many respondents sought a leader who:
Solicits, considers and integrates multiple opinions and perspectives in their decision-making
Is able to effectively manage conflict and crucial conversations
Recognizes opportunities for transparency and inclusivity and deliberately invites diverse voices to the table with clear and defined roles
Builds a culture of collaboration and communication across reporting lines
Sets clear priorities, goals and expectations
Is committed to professional development across the faculty spectrum
Values shared governance
Empowers people to do what they do well and finds resources for them to succeed
Is responsive to and advocates for faculty needs
Personal qualities and philosophy
In addition to professional experience, attendees stressed the need for candidates who will contribute to a positive campus culture, specifically that they work well with internal colleagues and external partners. It was also important that final candidates be champions for MSU Denver in the present and committed to building its future, remaining steadfast to the mission of being a comprehensive university that teaches students employable skills and how to learn.
Next, the University will work with consultant Alberto Pimentel of Storbeck/Pimentel & Associates. Through six previous searches with MSU Denver, Pimentel has gained a deep understanding of the University's values, and he met separately Thursday with a number of smaller constituency groups across campus, including deans, chairs and vice presidents, to better inform the search. Please stay tuned for more information.
Search Committee Members
Matt Makley, Ph.D., professor, History – Search Committee Chair
Rosemarie Allen, Ph.D., professor, Education
Andrea Borrego Ph.D., assistant professor, Criminal Justice
Katia Campbell, Ph.D., associate professor, Speech Communication
Su-Jane Chen, Ph.D., professor, Finance
Greg Clifton, Ph.D., professor, Accounting
Adam Graves, Ph.D., professor, Philosophy
Tanya Greathouse, Ph.D., assistant professor, Social Work
Brian Gunther, Technical Process and Communications Manager
E.J. Kang, Ph.D., assistant professor, Hospitality, Tourism and Events
Adrienne Martinez, executive director, Classroom to Career Initiatives
George Middlemist, Ph.D., associate vice president, Administration
Adriana Nieto, Ph.D., associate professor and chair, Chicana/o Studies
Shelia Rucki, Ph.D., professor, Political Science
Arlene Sgoutas, Ph.D., interim dean, College of Letters, Arts and Sciences
Kim Starr, Strategic Planning and Financial Analyst Manager
Topics: Events, Hiring
Edit this page