Early Bird
GITA issues call for conference proposals
The institute welcomes ideas for panels, presentations, workshops and more within the theme of 'Contesting Constitution(s).'
October 17, 2019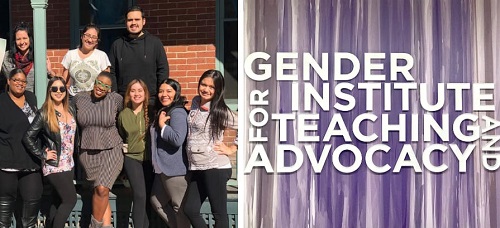 The Gender Institute for Teaching and Advocacy will host "Contesting Constitution(s): Political Alliance and Women's Right to Vote" on April 2. In advance of the event, the institute has issued a call for panels, presentations, roundtables, teach-ins, art, academic posters and workshops related to the theme.
"Contesting Constitution(s)" will provide opportunities to consider the past, present and future of political agency, constitutional rights and women's suffrage, and ask larger questions about freedom, equality, democracy and justice. The central objectives are to provide programming that helps educate students and the campus community about the past, interrogate contemporary issues and mobilize for a better future.
Organizers welcome proposals on:
Constructions of citizenship
Historical and contemporary political processes for inclusion and exclusion
Indigenous perspectives, settler colonialism and political sovereignty
Slavery, freedom and reparations
Community organizing, political movements and social-justice initiatives
Diasporas, immigration and asylum
Policing, incarceration, surveillance, security and the state
Nationalist ideology
Religious conviction(s) and faith-based activism
(Anti-)discrimination laws and legislation
Corporate power, privatization and the economy
Gentrification, displacement, housing rights and health of marginalized communities
Restorative Justice, Transformative Justice and Healing Justice frameworks
If you are interested in presenting, please include the following in your proposal:
Name(s) of presenter(s) and email address(es)
School or community affiliation
Position (student, staff, faculty) and major/office/department/program
Format: panel, roundtable, presentation, teach-in or workshop
Preferred times to present. If you are a faculty member proposing a teach-in, please indicate time and location of classroom.
Which conference objective(s) your presentation covers: educate, interrogate/explore and/or mobilize (more than one can be selected).
Title of presentation (20 words max.)
Proposal abstract (250 words max.)
List of references (2-10 sources)
Required technology (e.g., a projector, etc.) or accessibility needs (e.g., translator, etc.)
Please submit your proposal as a single PDF with the subject header "Contesting Constitution(s)" to gita@msudenver.edu no later than Nov. 1. Those selected will be notified by mid-December. Visit the GITA website for more details.
The event is co-sponsored by Center for Multicultural Excellence and Inclusion at MSU Denver, the Department of Chicana/o Studies at MSU Denver, the Department of Political Science at the University of Colorado Denver and the Community College of Denver Sociology Program.
Topics: Academics, Events
Edit this page