Early Bird
A winning recipe for future hospitality leaders
Restaurateur donates $1.54 million to MSU Denver for launch of Gina and Frank Day Leadership Academy.
October 10, 2019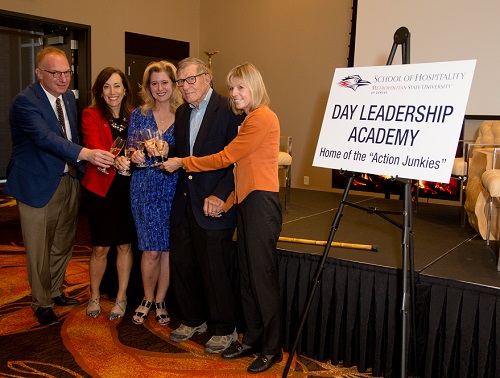 "The best way to achieve your goal is to also make it the goal of others."
Those are the words underneath the portrait of Gina and Frank Day that hangs in Metropolitan State University of Denver's Hospitality Learning Center. The industry luminaries recently provided a gift of $1.54 million toward the school's endowment and for development of a leadership academy that bears their name.
MSU Denver President Janine Davidson led a fireside chat with the couple Wednesday as part of a ceremony in the SpringHill Suites to commemorate the gift.
"Thank you for your leadership and believing in us the way we believe in you," she said. "This gift allows us to integrate with the hospitality industry in a meaningful way that will impact so many students and people throughout the state of Colorado."
A famed restaurateur, Frank Day went from a single hot-dog stand to launching some of the most recognizable national names in the field, including Rock Bottom Brewery, Old Chicago Pizza and Taproom, and the Concept Restaurants group; Gina Day is the CEO of Boulder Beer Co.
"(MSU Denver) should be celebrated and admired across the country," Frank Day said. "There's a certain spirit amongst the faculty and administration; there's an enthusiasm for this place that everyone's participating in something bigger.
"And if you want effective leadership, that has to be part of it."
The academy will include a new hospitality-leadership industry major; a structured mentoring program involving alumni and industry professionals; a formalized internship program; and a retreat-based leadership program for industry professionals and students.
Additionally, a pilot online noncredit hospitality-leadership certificate for industry members is being launched. Concept Restaurants is providing 12 employees with comprehensive training in an Industry Professional Hospitality Leadership Certificate. University partners Sage Hospitality and Stonebridge Properties, along with Work Options for Women, are also contributing participants.
Together, these 24 individuals are participating in online modules designed by Chef Jeff Koch, hospitality professor, to provide an assessment of their leadership skills, engage in goal development and career trajectory, and facilitate adding new tools to enhance their professional growth. The certificate culminates in an on-the-ground strategic leadership-development exercise to highlight the collaborative value of industry partners collectively working to recruit and retain the hospitality workforce of tomorrow.
"What is leadership? It's what keeps the hospitality world going," Frank Day said. "The main thing is trust. … If you're going to follow someone, you have to trust them. In our business, nothing happens without people working together."
Dean Christian Hardigree affirmed the impact the gift will have on students' ability to reimagine success in Colorado's hospitality industry.
"We are deeply appreciative and honored to receive this substantial gift," she said. "Their commitment and generosity extend well beyond their financial investment. Our students will have a competitive advantage in their career through the blend of high-quality leadership education and exceptional experiential learning opportunities."
Read more about the event and academy in this CBS4 story from Oct. 2
Topics: Advancement, Events, Hospitality, School of Hospitality, Events and Tourism
Edit this page