Early Bird
Serving from the heart space
Servant leadership can help create and sustain a healthy campus culture at all levels.
October 1, 2019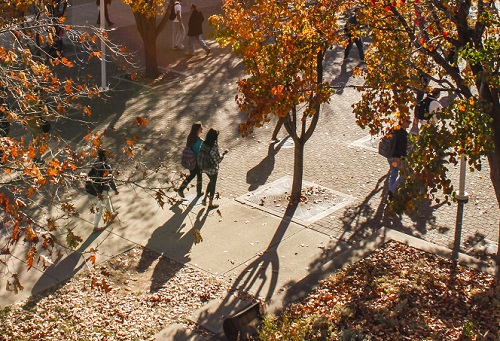 As Metropolitan State University of Denver navigates a new era of higher education, and as more millennial and Gen Z professionals join the University workforce, conversations about creating and sustaining a healthy campus culture are shifting. Leaders are being called upon to lead through serving first, which for some is a dramatic (and creative) paradigm shift. This article begins the conversation on how to make this happen.
Robert Greenleaf coined the term "servant leadership" in 1977, referring to a natural tendency to serve first followed by a conscious choice to lead second. Modern-day servant-leadership author Larry Spears later distilled Greenleaf's perspectives into 10 characteristics for a healthy work environment: listening, empathy, healing, awareness, persuasion, conceptualization, foresight, stewardship, commitment to the growth of people and building community. In talking with new generations of faculty and staff, I have found that many folks are seeking a more self-aware, heartfelt leadership system that connects with their values and purposes.
To promote purpose, many theorists believe servant leadership begins with the heart. In the book "Crucial Conversations," Patterson, et al., advise "start with the heart" and emphasize the importance of working on yourself before focusing on others – in other words, doing a deep dive on what makes you tick. Patterson encourages leaders, before starting a tough conversation, to ask themselves: 1) "What do I really want for myself?" 2) "What do I really want for others?" and 3) "What do I really want for the relationship?"
To help with framing, mindful leaders pause and clarify what they don't want, too. However, when emotions drive the mind – rather than the mind driving the emotions – once-collaborative relationships can quickly disintegrate.
John C. Maxwell adds to the importance of heart in his book, "The 21 Irrefutable Laws of Leadership" (2007). For example, "The Law of Connection" speaks to leaders "touching a heart before asking for a hand." Maxwell points out that the "stronger the relationship and connection between individuals, the more likely the follower will want to help the leader." One way of making this happen is to relate to colleagues as individuals, understanding their likes, dislikes, dreams, hopes, strengths and challenges. To promote connecting, focus on them, not yourself. Go to where your direct reports are: their offices, cubicles or desks. Ask, "How can I make your job better?"
Building momentum for a better job environment, the authors of "Nine Lies of Work," Buckingham and Goodall, invite individuals to assess the health of their area by applying the following statements:
I am really enthusiastic about the mission of my organization (or department).
At work, I clearly understand what is expected of me.
In my team, I am surrounded by people who share my values.
I have the chance to use my strengths every day at work.
My teammates have my back.
I know I will be recognized for excellent work.
I have great confidence in my company's (or department's) future.
In my work, I am always challenged to grow.
If you can answer "yes" to any of the questions, way to go! If you responded "no," then let's roll up the sleeves on the heart space, connect with people and begin addressing the power of serving first, leading second.
References
Buckingham, M. & Goodall, A. (2019). Nine Lies About Work. Boston: Harvard Business Review Press.
Greenleaf, R. (2002). Servant Leadership: A Journey Into the Nature of Legitimate Power and Greatness, 25th Anniversary Edition. New Jersey: Robert K. Greenleaf Center Inc.
Maxwell, J. The 21 Irrefutable Laws of Leadership. Harpers Collins Leadership.
Patterson, K., et al., (2012). Crucial Conversations, Tools for Talking When Stakes Are High. New York: McGraw-Hill.
Spears, L. (1995). Reflections on Leadership. Hoboken: Wiley Publishing.
Topics: Best practices, Community, Learning and development, Learning Nook, Respect
Edit this page