Early Bird
"You define what your legacy will be"
Sampson Davis, M.D., delivers message of inspiration and commitment to future health care professionals.
October 1, 2019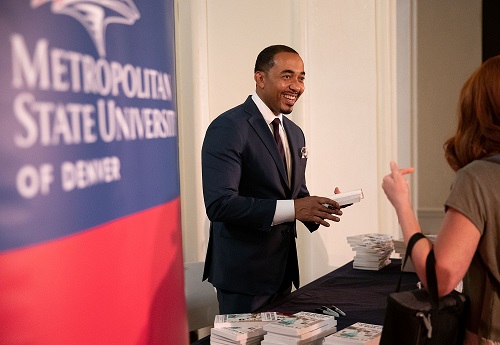 More than 300 attendees packed St. Cajetan's last Thursday to hear Sampson Davis, M.D., share his inspiring story of going from the streets of Newark, N.J., and a stint in juvenile detention to becoming an emergency room doctor who serves his home community — a journey that even landed him on the Oprah Winfrey Show.
Metropolitan State University of Denver President Janine Davidson, Ph.D., and Jenn Capps, Ph.D., dean of the College of Professional Studies, welcomed Davis, who shared personal stories of his road to medical school — specifically how dodging a school security guard accidentally put him in a medical school recruiter's info session. Although it planted the seed of what was to come for Davis, his environment still presented challenges.
"College was not real for me," he said. "You can't aim for what you can't see."
Davis credited the support and accountability of childhood friends Rameck Hunt and George Jenkins, who also went into medicine, for his academic success. Together, Davis, Hunt and Jenkins are known as the Three Doctors, and their journeys were detailed in the New York Times bestseller "The Pact."
Davis also spoke of his continued dedication to resiliency, inspiring students to work toward addressing social determinants of health. Individual accounts and experiences of those determinants are highlighted in the event's corresponding book selection, Davis' "Living and Dying in Brick City."
"Some things are out of your control," he said. "It's all about how you react to those challenges with fortitude, head on."
The University's Health Institute and Department of Human Services and Counseling co-sponsored the event as part of the President's Speaker Series. The series has also welcomed former Mexican President Vicente Fox and his wife Marta, and high-powered political operatives Donna Brazile, Yolanda Caraway, Leah Daughtry and Minyon Moore.
The event closed with a standing ovation for Davis, who ended with an inspiring reflection on the strength of collective commitment.
Topics: Events, Presidential Speaker Series
Edit this page