Early Bird
Notice anything different?
MSU Denver is refreshing its brand to showcase opportunity, excellence and innovation. That brand debuts Tuesday at Welcome Back.
September 9, 2019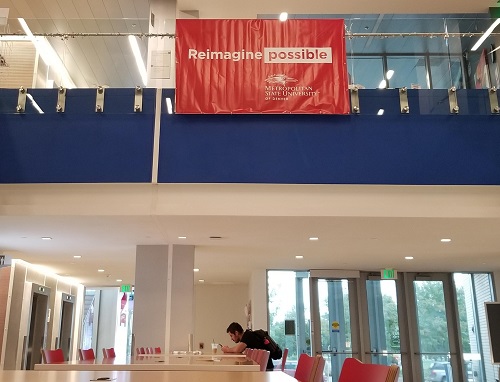 On Tuesday at the annual Welcome Back Breakfast, the University will unveil its new brand campaign. Building on the legacy of the "Lives Transformed" campaign that showcased the success, value and impact of Metropolitan State University of Denver alumni, the new campaign boldly turns the focus back on the University.
"In listening to our students, faculty, staff and community partners, it was clear that MSU Denver has made significant strides in reputation and visibility," said Cathy Lucas, vice president of Strategy. "Our stakeholders already know our alumni are incredible and that our students are dedicated, tenacious innovators. Now, it's time to tell Colorado about the amazing University that helped them get there."
In the coming days, weeks and months, MSU Denver will make a serious splash in the local community. Look for ads on public transit, on billboards, in media and at the airport. As digital advertising and storytelling are also key to the campaign's success, you'll soon see new web ads as well as key changes and improvements to the MSU Denver website – the University's largest marketing tool.
"This new campaign speaks directly to the excellent people, programs and innovations at MSU Denver," said President Janine Davidson, Ph.D. "It says boldly and proudly that we are reimagining what's possible in higher education – that we open doors, that we connect learners with leaders, and that we are a critical part of growing Colorado's economy and culture."
As part of this new branding effort, the Strategy, Marketing and Communications Digital Team has worked for six months to create a refreshed look for www.msudenver.edu. The updated look will affect more than 9,000 pages (out of 16,000 total) across 80 University websites.
Improvements include:
Updated information, branding and messaging in support of the University's campaign.
A clean, modern look and feel across all pages.
Higher contrast and other improvements to better meet accessibility standards.
As with any technology project, the Digital Team has diligently tested the new content on many devices and browsers. However, if you identify any issues or would like to provide feedback on the refreshed design, please complete this Qualtrics form.
Topics: Branding, Collaboration, Events, Excellence, Innovation, Opportunity, President Davidson
Edit this page