Early Bird
Women in STEM Conference offers a 'Blueprint for Success'
The free Oct. 25 event covers mentoring, conflict, communication and the art of saying 'No.'
September 30, 2019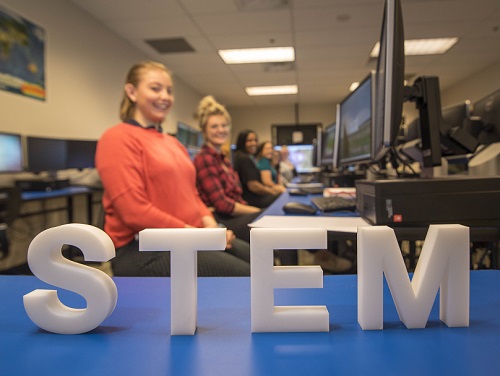 Metropolitan State University of Denver's annual Women in STEM Conference unpacks and challenges the professional barriers faced by people who identify as women and other underrepresented populations in STEM disciplines.
This year's theme, "Blueprint for Success: Building Skills and Setting Boundaries," expands on past topics such as intersectionality, work-life balance and impostor syndrome to give students tools to successfully navigate STEM careers.
Sessions will focus on real-world skills that are particularly important for women and underrepresented populations, starting with the keynote. Delivered by Professor of English and Writing Center Director Elizabeth Kleinfeld, Ph.D., "The Art and Science of Saying No" will explain the science that makes it difficult for many women to establish boundaries around their time. It also will touch on steps women in STEM can take to defend their and their colleagues' time while resisting (and shifting) this aspect of work culture.
Further supporting the theme, interactive breakout sessions include:
A conflict and communication workshop led by Elise Krumholz, coordinator for Student Conflict Resolution Services, Dean of Students Office, on gender and conflict dynamics, intent versus impact, and strategies to start a difficult conversation.
"Navigating the Job Search," a workshop led by MSU Denver STEM career specialist Tennille Hamler that guides participants through salary negotiation and mock interviews with STEM-related companies.
An "Education Beyond the Classroom" panel discussion covering the benefits of undergraduate research, undergraduate teaching and professional internships — including student, mentor and employer perspectives on effective mentoring strategies to help students get the most out of internships.
"We are excited that this year's conference leans heavily on local talent," said conference committee member April Hill, Ph.D., professor, Chemistry and Biochemistry. "Most speakers and panelists are MSU Denver faculty, staff and students, and the others are members of our local STEM community. We hope that students in the audience will recognize these folks and their departments as ongoing resources should they choose to pursue additional training or information."
The event is free of charge and open to all MSU Denver students, faculty and community members. As breakfast, lunch and tote bags are provided, registration is highly encouraged.
Topics: Events
Edit this page