Early Bird
Colorado Free Application Day is Oct. 15
The annual event helps remove barriers for potential Roadrunners.
September 30, 2019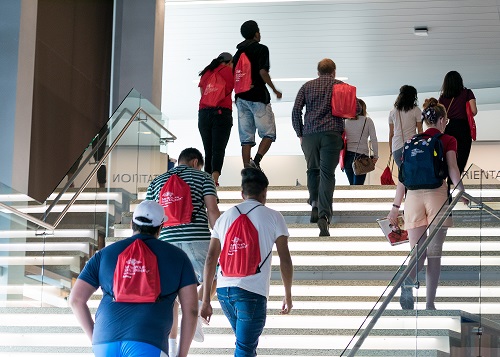 On Oct. 15, Colorado Free Application Day, application fees will be waived at 32 public and private institutions across the state. The event, which aims to increase higher-education accessibility, has proved popular among potential Roadrunners.
"We know that application cost and guidance are two barriers students face when applying to college," said Morgan Raleigh, director of recruitment for the Office of Admissions. "Free Application Day is a way for the Colorado education community to rally around access to college and support students in taking that first step."
For Metropolitan State University of Denver, increasing higher-education accessibility is already a year-round effort. The University maintains a low application fee and always waives fees for returning students. Free Application Day, however, is a great boost. In 2018, the University received roughly 2,000 applications. Raleigh's team hopes to grow that number to 2,300 for 2019 by increasing transfer-student participation (as many community colleges are also waiving transcript fees on designated dates).
However, addressing financial barriers is just one side of the coin.
"A good portion of our students are the first in their family to attend college," Raleigh said. "Sometimes they are unsure of how to answer questions or are unaware of the additional documents needed. That may delay their application or prevent them from finishing at all."
To fill critical information and experience gaps, MSU Denver Admissions counselors regularly visit high schools and community colleges across the state to help students and their families understand the University and the application process.
In the lead-up to Free Application Day, the MSU Denver community is invited to join in the effort. Stay tuned for poster, email and social-media campaigns, and be sure to use #FreeAppDayCO to let your social networks know MSU Denver is supporting college access. You can also direct students to the Free College Application Day website for more information.
REMINDER: The 2020-21 FAFSA opens Oct. 1. Submitting early gives students a better understanding of how affordable an MSU Denver education can be and gives them time to look for additional scholarships and resources if needed.
Topics: Enrollment, Events, Student Success
Edit this page