Early Bird
Hello, my name is … Nahum Kisner
'Students chose us over other institutions … so we have to continue to choose them'
August 8, 2019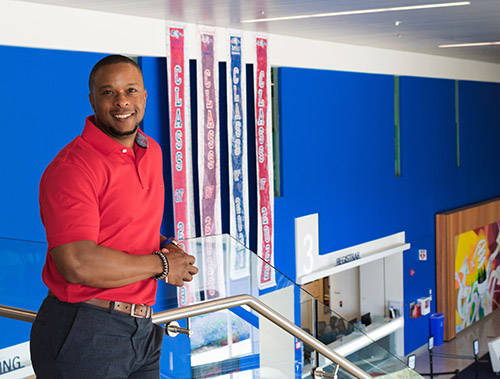 In the late '90s, Nahum Kisner was recruited to run track for a liberal-arts college in Ohio. Today, Kisner keeps Metropolitan State University of Denver students on track — to stay in school.
In May, Kisner was named director of Student Support and Retention. It's a perfect role for Kisner, who remembers benefiting from the same type of tutoring, supplemental instruction, advising and scholarship support that he now offers in Roadways.
"I wouldn't have persisted in college without the help of my faculty advisor, my track coach and some important student-services professionals," Kisner said. "They invested their time and energy in me … so that I graduated from college."
Inspired by that support, Kisner gravitated toward mentoring work after graduation. He first served MSU Denver students as director of High School Upward Bound and TRIO Support Services before working with Denver Public Schools as EdConnect program manager, and he's happy to be a Roadrunner once more.
"Many incoming students have applied to as many as five to 10 colleges, but they choose us over other institutions," Kisner said. "Because they chose to attend MSU Denver, we have a responsibility to make sure they feel welcomed, are challenged academically, and that we show them we are committed to their persistence and graduation."
The Early Bird caught up with Kisner to learn more about his work, his life and his ongoing commitment to student success.
What student-retention ideas and strategies will you roll out this year?
It takes a campuswide approach to ensure that our students persist from semester to semester – and to retain them from year to year. My short-term goal is to work with faculty and staff to understand retention efforts already underway within Academic Affairs and Student Affairs. I have already had some great retention conversations with faculty and staff, and I am thrilled with their commitment and initiative. Faculty and staff are extremely committed to students' learning, campus engagement and academic journey.
The recommendations from the Strategic Enrollment Committee will also provide some solid guidance on how we can collectively ensure that students are retained and that they ultimately graduate.
How can faculty and staff be allies for students and support your work in Roadways?
I fully believe, as do many of my colleagues, that we all can play a role in ensuring that our students are retained and that they graduate. It takes a collective effort across divisions and departments. Making the extra time to get to know our students as individuals and learn their stories helps them feel connected to our University – and feeling connected is a positive indicator of college retention and satisfaction.
What would we find you doing when you're not at work?
My wife and I have two boys who are both pretty involved in sports. I help coach my older son's AAU basketball team, so most of our weekends are spent supporting our kids. I'm also a huge Texas Longhorns fan, having grown up in Houston and Austin. When football and basketball are in season, you'll definitely catch me watching my Horns!
Topics: Enrollment, Hello, My Name Is, Student Success
Edit this page