Early Bird
Faculty Senate: a chat with Katia Campbell
Former President Matt Makley interviews new leader on the importance of equity, work-life balance – and 'Star Wars.'
August 8, 2019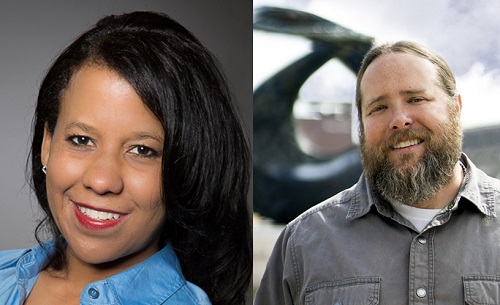 Metropolitan State University of Denver's Faculty Senate is the advocacy body for the institution's instructional practices, counting academic, administrative, fiscal and personnel matters in its purview.
As leadership of the body transitions, the Early Bird invited Professor of History and former President Matt Makley, Ph.D., to develop some questions for new Faculty Senate leader and Associate Professor of Communication Studies Katia Campbell, Ph.D.
Campbell — who will also be moderating the Sept. 10 Welcome Back event and giving a TEDxMSU Denver talk on Sept. 12 — shares her insights into the importance of advocacy, shared governance and one of everyone's favorite droids from a galaxy far, far away.
Matt Makley: How long have you been at MSU Denver, and what have you learned about our institution in your time here?
Katia Campbell: One of the most significant things that I have been able to witness at MSU Denver during my 11 years of employment here is the institution's increasing commitment to diversity and equity. With the development of the Center for Equity and Student Achievement office and a multitude of programs dedicated to increasing retention, diversity and equity at the campus, I have learned that (the University) is not just paying lip service to equity because it sounds good.
The institution, faculty, staff and administrators are actually committed to this type of work on our campus. I appreciate the dedication to quality of education and experience for our diverse student population.
MM: What is your academic specialty, and what are you passionate about in that realm?
KC: My academic specialties lie in the areas of rhetoric, diversity and cultural/media studies. I am most passionate about introducing students to the importance of rhetoric and how language constructs, maintains and transforms culture.
I love teaching courses on media studies because students learn how to be more critical as consumers of persuasive messages. I also enjoy teaching Freedom of Speech and facilitating discussions on democracy, citizenship and civic engagement.
MM: Can you share your philosophy regarding shared governance?
KC: Shared governance is a vital part of an effective, democratic university. It is important for faculty, staff and administration to work together to develop and enhance campus policies, procedures and climate.
When faculty members know that they have a voice in the functioning of the University, it increases commitment to the institution and strengthens relationships across academic roles. Finally, shared governance helps our students because it empowers the entire academic community.
MM: What motivated you to run for Faculty Senate president?
KC: It had originally never crossed my mind to run for Faculty Senate president. However, I began to consider it after I was encouraged by several people on campus to do so. After giving it a lot of thought, I realized that I have a lot to offer in terms of my collaborative leadership style and my commitment to faculty, students and the broader MSU Denver community.
I want to continue the work accomplished (by previous leadership) in terms of strengthening bridges between faculty and administration. The only way our University can thrive is for all of us to work together in a collaborative and open environment.
MM: How do you seek to maintain balance between your busy professional and personal lives?
KC: This is perhaps that most difficult question to answer because I am constantly trying to maintain balance within my incredibly busy life. I have tried to dedicate weekends and evenings after 6 p.m. to my family. This means not checking emails as often during the weekends and trying to make sure that I get the bulk of my work accomplished during the workweek.
I also make sure that I take time to simply celebrate life with my family. I go out swing dancing with my spouse, paint, and we take quick weekend trips to the mountains with our teenagers. I also try to exercise when I can.
MM: Finally, the most important issue: Which character from the "Star Wars" saga do you most identify with and why?
KC: I love this question! Oddly enough, the character I most identify with is R2D2. Yes, he is a droid, but he is a droid with a lot of personality and a big heart. He is fiercely loyal to his friends and is protective of their safety and well-being.
It is also obvious that he has a keen sense of humor. He always wants to help and be useful, but he isn't afraid to zap people or creatures when his team is threatened.
Topics: Faculty Senate
Edit this page