Early Bird
Kress, Aerobatics and Glider Club earn aviation accolades
Club places second at Oshkosh competition as coach earns award for contributions.
August 8, 2019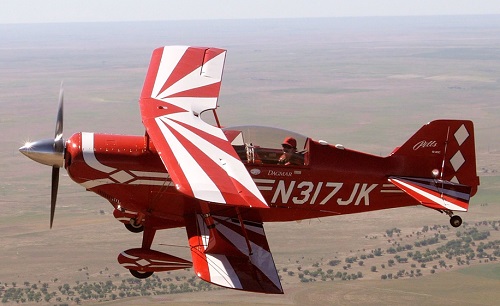 Metropolitan State University of Denver's Aerobatics and Glider Club is flying high again after a second-place finish in the collegiate aerobatics competition at AirVenture Oshkosh 2019, the largest air show in the world hosted by the Experimental Aircraft Association.
Dagmar Kress, affiliate faculty coach of MSU Denver's aerobatics club team and Precision Flight Team, also brought home hardware from Oshkosh, Wisconsin, where she was awarded the 2018 Frank Price Cup by the International Aerobatic Club in July.
"The award to me means that I am contributing valuable work to the sport of aerobatics by introducing, coaching and teaching this art to as many students as I can," Kress said. "My students are the ones who rejuvenate and inspire me every single day. Receiving the award motivates and obligates me to continue to influence as many young pilots as possible to pursue the art and skill of flying aerobatics."
Aviation and Aerospace Science Department Chair and Professor Jeffrey Forrest, Ph.D., praised Kress for the unmatched instruction she offers MSU Denver aviation students.
"This award validates that MSU Denver is extremely fortunate to have on its faculty one of the best internationally recognized aerobatic pilots and instructors. Dagmar is opening doors of opportunity and recognition for our students that are unparalleled in aeronautics," Forrest said. "Our students are learning challenging and hands-on flight skills in aircraft that are extremely demanding to fly.
"This prepares our graduates to be top contenders for jobs in the commercial world of aviation and air transportation."
Kress commended her students for making the financial and time commitments to practicing and competing in aerobatics. She said it's extremely difficult for young students to find time for aerobatics around academics and work while also balancing costs against schooling and necessities such as rent and food.
"With this in mind, one goal of mine is to find more donors, sponsors and fundraising opportunities that can make aerobatics a more accessible sport to compete in for our students," she said.
The Aerobatics and Glider Club will compete in the 2019 U.S. National Aerobatic Championships from Sept. 21-27 in Salina, Kansas.
Edit this page