Early Bird
TEDx tickets now $10 for faculty and staff
Employees who have already purchased tickets will be refunded cost difference but do not need to re-register.
August 6, 2019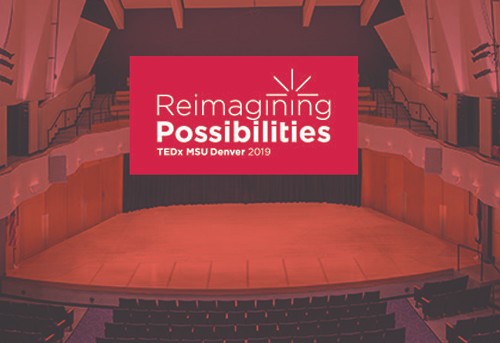 Due to overwhelming interest in the TEDx event happening in September, a limited number of tickets are now available to faculty and staff at a discounted rate of $10. Each faculty and staff member is entitled to one ticket at the discounted rate.
Faculty and staff who have already purchased tickets at the previous $40 rate will be issued a reimbursement covering the difference for their ticket. The standard rate still applies for guest tickets. There is no need to re-register for the event, as you will remain on the guest list.
Before purchasing a ticket, please consider whether you will be able to attend the full-day event. Out of respect for the speakers, we want to make sure that all registrants can stay for the duration of the program.
University employees do not need to take annual leave to attend but should check with their supervisors before registering.
As a reminder, here are the details for the event:
TEDx MSU Denver – Reimagining Possibilities
Sept. 12, 2019
10 a.m.-5 p.m.
King Center Concert Hall
The program will feature 17 TED talks and two performances from members of the MSU Denver community. That includes eight faculty, three alumni, multiple students and even President Janine Davidson, Ph.D.
Edit this page