Early Bird
PE/Event Center update
Facility renovations on track; new locker rooms, bleachers and more coming soon.
August 29, 2019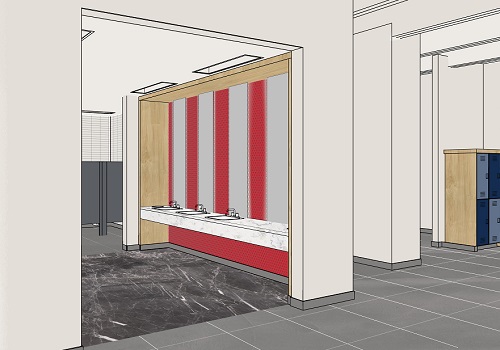 The PE/Event Center's renovation is on track and should be completed by Nov. 1, said Leone Dick, interim director of facilities planning and space management at Metropolitan State University of Denver.
"We're focused on improving accessibility for the bleachers, updating lighting and increasing safety in the locker rooms," she said. "The spaces haven't been remodeled since the '70s, and you can only make surface-level improvements for so long."
Led by Denver-based Howell Construction, the $8 million project is finishing walls and ceilings in the locker-room spaces; work on updating the bleachers is also underway.
In addition to the first-floor men's and women's locker rooms being renovated, gender-neutral space is being incorporated into the plans.
"These renovations are extremely important for helping move our men's and women's basketball and volleyball programs forward; more than that, they're going to benefit our entire campus population," said Anthony Grant, Ph.D., director of athletics for MSU Denver.
"Our members, along with the entire Auraria community, will have access to these new spaces," added Diane Yee, director of campus recreation. "We're excited to see this campus continue to uphold the values of access, community and diversity."
Dick said the project has been coordinated closely with constituents including Roadrunner Athletics, Campus Recreation, Human Performance and Sport, and the Auraria Higher Education Center.
"We're trying to take everyone's feedback into account," she noted. "It's not just a construction project; you're changing people's operations, so it's really important we don't undertake a project of this magnitude without input and considerations from everyone impacted."
Aesthetically, the finished project is planned to reflect Roadrunner colors of blue and red; bleachers will similarly be dark navy with red seating along the sides and in the reserved VIP section.
Grant also noted how the renovation will bring the University into compliance with Title IX standards and increase bleacher accessibility for all fans to be able to come cheer on their fellow Roadrunners.
Work, which began April 22, is scheduled to be completed by the time the school plays host to the Division II national volleyball tournament in December.
"With facilities like the Regency Athletics Complex and now this renovation, it allows us to put our best foot forward and showcase the experience of our world-class athletics programs," Grant said.
And whether it's a quick workout or shower for gym-goers, the entire MSU Denver community can benefit from the access to updated locker rooms and facilities, Dick said.
"We're working collaboratively to come up with the best way to keep the University in the forefront at all points of this project," she added. "It's really exciting to see this come together."
Edit this page