Early Bird
CTLD offers new and improved faculty-development opportunities
The Center for Teaching, Learning and Design helps educators improve instructional methods and techniques.
August 27, 2019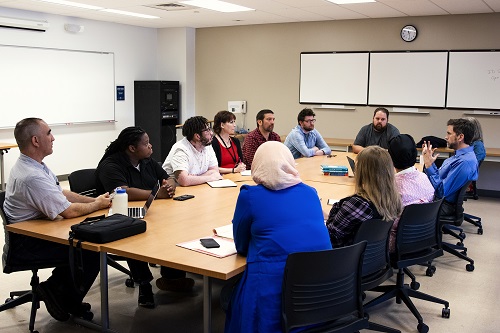 The Center for Teaching, Learning and Design team worked hard over the summer preparing a variety of new and improved professional-development opportunities for Metropolitan State University of Denver faculty. These new offerings are designed to help faculty members continuously improve their instructional methods and techniques to increase equity, engagement and success for students and instructors.
Take a look at the CTLD's fall lineup to learn more about new Faculty Learning Communities, how to improve your online teaching courses and more.
Just-in-Time Teaching Faculty Series
The series allows faculty members from across campus to learn about the JiTT pedagogical strategy as MSU Denver prepares to implement it for the spring semester.
Better Online Teaching – A Variety of Help With Online Facilitation
In this series, faculty members have a full menu of options for improving their online course facilitation (as distinct from course design). These range from bite-size (one-hour) to snack-size to a "seven-course meal" (a yearlong ACUE Course that will launch soon).
Write It This Semester (WITS) – Two Ways to Get Writing Done!
The long-running WITS series will split into two parts this fall. A "shut-up-and-write" series will run alongside a Writing Regularly workshop series.
2019-20 Faculty Learning Communities
FLCs for this year continue to be finalized and promoted. There are three listed, but the list will be updated as more details are confirmed. Stay tuned!
Find more information about the CTLD and its many resources by subscribing to the CTLD newsletter. Please send your subscription request to ctld-newsfeed@msudenver.edu.
Topics: Center for Teaching, Learning and Design, Professional development
Edit this page