Early Bird
CAMP to host office-warming party today and Thursday
The College Assistance Migrant Program welcomes Roadrunners to its new space in Tivoli 221.
August 27, 2019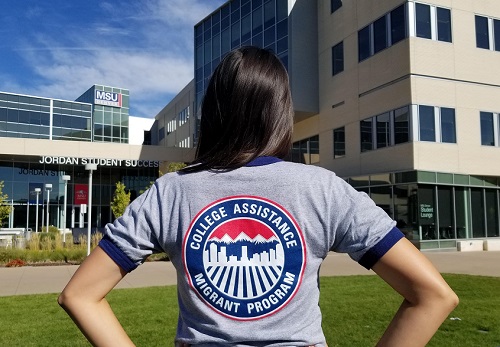 Metropolitan State University of Denver's College Assistance Migrant Program recently moved to the Tivoli Student Union, Suite 221. In honor of a new academic year and a new location, the CAMP team welcomes faculty, staff and students to an office-warming party today and Thursday from 11 a.m.-2 p.m.
The goal of MSU Denver's CAMP program is to help students from migrant and seasonal-farmworker backgrounds enroll in higher education and achieve a postsecondary degree. While the program provides its most comprehensive assistance during a student's first year, the CAMP team is available to assist students throughout their college experience.
"Support for CAMP scholars doesn't end after their first year," said Raquel Jiménez, CAMP director and alumna. "We're committed to their success for the entire time they are at MSU Denver."
Since 2000, CAMP has supported more than 650 students and aims to serve an additional 150 students over the next five years. The program provides a solid and consistent foundation that continues to serve the migrant and seasonal-farmworker population in metro Denver and its surrounding counties. Most CAMP students, especially those who come from distant locations such as Grand Junction, Alamosa, Pueblo or the San Luis Valley, benefit significantly from the CAMP community they form here at MSU Denver.
To learn more about CAMP, please visit msudenver.edu/camp/.
Topics: Community, Student Success
Edit this page