Early Bird
4 Roadrunners honored by Denver Business Journal
Cathy Lucas, Marti Awad, Celia Dietrich and Wendy Dominguez recognized at Outstanding Women in Business Awards celebration.
August 26, 2019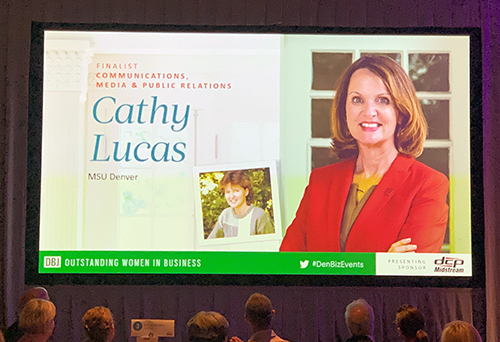 The Denver Business Journal presented its 2019 Outstanding Women in Business Awards on Wednesday. Of the 12 awardees, three were members of the Metropolitan State University of Denver community. Another Roadrunner was named a finalist.
Cathy Lucas, MSU Denver vice president of Strategy and chief of staff, was honored in the Communications, Media and Public Relations category; Foundation Board of Directors member Marti Awad, founding partner at Cardan Capital, won in the Small Business Leader category; and alumna Celia Dietrich, a 1995 graduate in accounting, was recognized in the Mile High Leader category.
Trustee Wendy Dominguez, president and co-founder of Innovest Portfolio Solutions, was also a finalist in the Banking and Financial Services category.
"What an outstanding achievement for these impressive women," said MSU Denver President Janine Davidson, Ph.D. "I'm proud of them – and their connection to our University. I think it speaks to how deeply our institution is woven into the fabric of the Colorado business community."
The Outstanding Women in Business Awards Celebration was held at the Hilton Denver City Center and hosted by Kevin Pitts, publisher and marketing president of the Denver Business Journal. In his opening remarks, Pitts described the awards selection as "incredibly competitive," noting that there were hundreds of nominations. Thirty-six finalists were ultimately selected, three in each of 12 categories.
Lucas said she was honored to be included in such distinguished company and credited her colleagues for their support.
"I would not have won this award without my amazing team," she said. "Their creativity and innovation, always challenging me to push the envelope a little further, is the reason I'm here."
Winners were evaluated based on excellence in qualities such as innovation, entrepreneurship, professional accomplishment and community leadership.
The DBJ released a special edition about the awardees Saturday (registration required).
Topics: Award
Edit this page