Early Bird
Get ready for Rowdy Days!
17 events next week designed to engage students and set them up for success.
August 20, 2019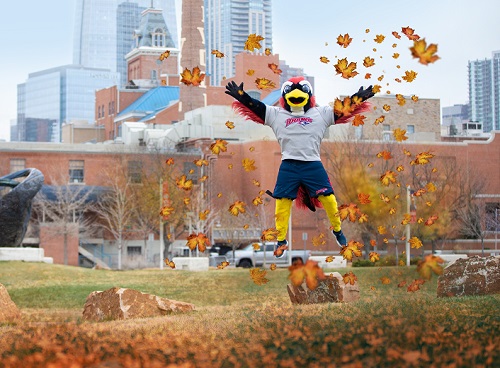 Keep the back-to-school engagement going all next week with Rowdy Days, a campus-wide collaboration between Student and Academic Affairs. These events are structured to provide meaningful and intentional programming to students as we welcome them to our Metropolitan State University of Denver community.
Programming during the week of activities meets learning outcomes related to:
Creating a sense of belonging
Encouraging student engagement
Campus navigation
Discovering campus resources
Instilling Roadrunner values
The Rowdy Days schedule consists of:
| | | | | |
| --- | --- | --- | --- | --- |
| Date | Event | Department | Time | Location |
| Monday | Meet the Peer Mentors | Peer Mentoring-Roadways | 9-11am | Tivoli 223 |
| Monday & 8/29 | C2Hub Open House/On-Campus Employment Networking | Classroom to Career Hub | 11am-2pm | Admin 270 & 325 |
| 8/27 | Meet and Greet With the Peer Mentors | Peer Mentoring-Roadways | 9-11am | Tivoli 223 |
| 8/27 | Taco Tuesday | Transfer Success-Roadways | 11am-2pm | Tivoli 223 |
| 8/27 | ROTC Pull Up Challenge | ROTC | 9am-1pm | Outside between Tivoli and King Center |
| 8/27 and 8/28 | Information Table | School of Education | 1:30-3:30pm (8/27 only) and 9-11am (8/28 only) | WC 162 - hall |
| 8/27 | Keep Calm and Practice Self Care | Department of Social Work | 11am-2pm | Central Classroom 206 |
| 8/27 | Fall Welcome Back | LGBTQ Student Resource Center | 11am-2pm | Lawrence Street Mall |
| 8/27 and 8/28 | College of Business Resource Days | College of Business/Career Services | 10am-2pm | 1st Floor Administration Building |
| 8/27 | Cafecitos: Coffee, Conversation and Community | Gender Institute for Teaching and Advocacy | 10-11am | Boulder Creek 132 |
| 8/28 | Rec Fest | Campus Recreation | 10am-2pm | Lawrence St. Mall |
| 8/28 | RIDES Kick-Off Open House | Writing Center RIDES program | 10am-5pm | JSSB 201 |
| 8/28 | Multicultural Student Welcome | Center for Multicultural Excellence and Inclusion | 11am-2pm | St. Cajetan's Event Center |
| 8/29 | School Hospitality Welcome Back BBQ | School of Hospitality, Events and Tourism | 10am-2pm | Patio of JSSB |
| 8/29 | Welcome All Writers | Writing Center | 10am-3pm | JSSB 201 |
| 8/29 | Get the Scoop! An Ice Cream Social | Gender Institute for Teaching and Advocacy | 1-3pm | Boulder Creek Room 132 |
| 8/29 | Center for Equity and Student Achievement Open House | Center for Equity and Achievement | 11-1pm | JSSB 2nd Floor Eat Wing- CESA and CMEI space |
Edit this page