Early Bird
Hello, my name is … Sam Borrego
Working with first-generation students hits close to home for MSU Denver's coordinator for First-Gen Initiatives.
August 21, 2019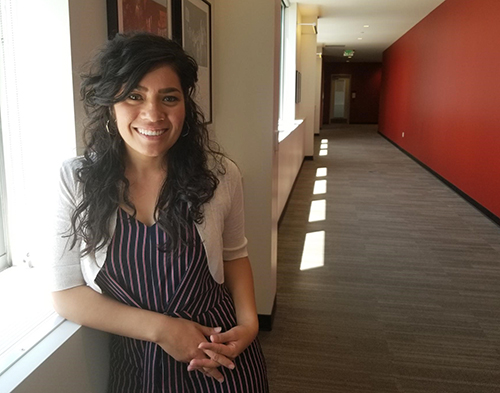 For Samantha Borrego, attending college was always the goal.
"My mom always talked to me about college when I was little," Borrego said. "She didn't want me to make the same mistakes she did, and she always pushed me to do my best. I just didn't always know how I would make college possible."
Borrego grew up in a low-income family and recalls feelings of shame around that part of her identity.
"I went to a (predominantly) white school," she said. "The other students' parents were therapists, businessmen or other professionals; they had nice homes. My family lived in a small, low-income apartment, and my mom was a lunch lady."
Today, Borrego, who identifies as Latina, is not only a first-generation college graduate; she's also Metropolitan State University of Denver's coordinator of First-Gen Initiatives. Since accepting the position in April, Borrego has spent her days working with and supporting students who are in the same shoes she wore not long ago.
What was your undergraduate experience like?
I loved the college I attended and loved every aspect of college in general. However, I also had shame around being a first-generation college student. At first, I told myself I wasn't going to share how I grew up. I just wanted to blend in. Then I met other first-gen students through a mentoring and scholarship program, and I realized I wasn't alone. Many other students shared my experiences. That is why I want to empower other first-generation students. I don't want them to feel that shame but to feel pride in who they are and especially for being first-gen.
Although I loved college, I also struggled with guilt. I was close to my family, and I felt that by going to college I was abandoning them — and it seemed like my family felt the same. I have a brother who is 10 years younger, and as I was growing up I took care of him. Even during college, I'd get up early before classes to take him to school. I felt bad for not being there for him enough. There were many times when I wanted to quit school, and then I thought about my family and the future students I wanted to serve. That kept me going.
What is the goal of First-Gen Initiatives?
The goal is to educate, empower and create community among first-generation students, faculty and staff. I want students to feel that they are leaders. I want them to feel that they are strong, resilient, and that they can succeed. One way I am trying to accomplish this is through the first-generation leadership program I am starting this fall. I want them to see that being first-generation means they are a leader. And they are bringing so many talents and so much strength to MSU Denver.
What would you like people to understand about first-gen students?
We are hardworking and have a lot of motivation because we are not in college just for ourselves but for our families, too. We have so much drive; we just need some support navigating college.
What would we find you doing when you're not at work?
I like being with my family, spending time with friends and going to movies. I'm starting to get into TV shows. I also enjoy hiking, camping, working out and salsa dancing.
Topics: Hello, My Name Is
Edit this page