Early Bird
Kudos
Applaud MSU Denver faculty, staff, students and alumni sharing their talents and energy.
August 19, 2019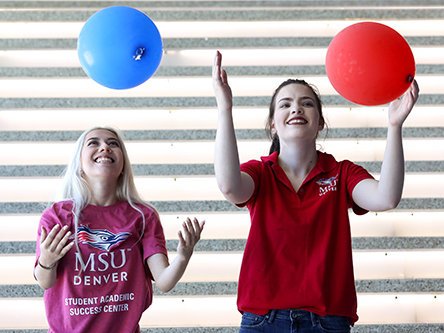 In addition to Faculty Citings, the Early Bird shines a spotlight each month on the accomplishments of Metropolitan State University of Denver faculty and staff. This month, we're also recognizing MSU Denver alumni making our community safer and healthier. If you know colleagues or graduates who deserve a round of applause, email earlybirdeditor@msudenver.edu.
Top-shelf faculty and staff
Amy Eckert, Ph.D., associate professor of Political Science, will receive the Ole R. Holsti Distinguished Scholar Award given annually to a scholar who has significantly influenced the International Studies Award West region. The scholarship was awarded for excellence in international studies and a distinguished record of teaching and mentorship, as well as service to the International Studies Association West region.
Chalane Lechuga, Ph.D., Adriana Nieto, Ph.D., and Adriann Wycoff, Ph.D., were co-editors of the new Chicana and Chicano Studies textbook published by Kendall Hunt, "Introduction to Chicana and Chicano Studies: An Interdisciplinary Approach to the Colorado/New Mexico Region."
The International Aerobatic Club honored Aerospace and Engineering Sciences flight instructor Dagmar Kress with the Frank Price Award for outstanding contribution to aerobatics in 2018. Congratulations, Dagmar, and thank you!
Kudos to Associate Professor of Art Matt Jenkins, who's showing original art Aug. 20 at the Haus der Kulturen der Welt in Berlin. Check out Matt's video "Helen Frankenthaler Radial Glow."
And more kudos to everyone at the Office of Enrollment Management for their tireless efforts during calling campaigns and registration/support events and making every effort to ensure that students are set up for success. Thank you for everything you do!
Accomplished students
Seven lucky School of HEaT beverage students received a "Court of Master Sommelier" fellowship to attend the Introductory Sommelier Course and Examination that was held at the Hospitality Learning Center on July 27-28. The seven students receiving the fellowships are James Steadman, Domonique Pachelli, Rebecca Irwin, Travis Michael Harris, Kristy Schwartz, Phillip Hua-Pham and Sam Knippers.
Congrats to MSU students who placed third in a meeting of the American Society for Microbiology, where the students presented their work in front of microbiologists from around the Rocky Mountain region.
The Academy of Nutrition and Dietetics Foundation awarded its prestigious Velmabelle Conford Scholarship to Anita Bancroft, an MSU Denver graduate student in nutrition and intern in the Individualized Support Practice Pathways Program. Congratulations, Anita!
Alumni who rock
Two MSU Denver alumni were awarded with Counselor of the Year for the past two years by the Colorado Association of Addiction Professionals; congratulations to Marie Archambault for your 2019 award and to Alex Castro for your 2018 award.
Kudos to alum Susan Conder, who sang with her a capella vocal group at a Colorado Rockies game July 3. She also will perform at Madison Square Garden in New York in November.
If you know Roadrunners doing fantastic work to advance University goals and student success, or those doing great work in the broader community, remember to share it with the Early Bird! We want to ensure that all great achievements are celebrated.
Edit this page