Early Bird
Communication Studies evolves to improve focus, collaboration
What Speech, Language, Hearing Sciences' move to the Health Institute means for students and faculty.
August 15, 2019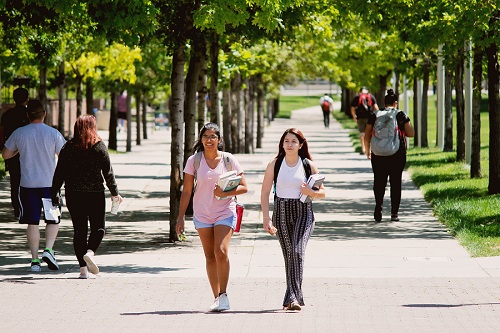 Metropolitan State University of Denver is constantly evolving to better serve students and provide high-quality learning experiences. One recent evolution in the Communication Arts and Sciences Department will help meet student-success goals while also improving communication, collaboration and opportunities for educators.
The Department of Communication Arts and Sciences was formerly composed of two distinct programs: Communication Studies and Speech, Language, Hearing Sciences. The programs have become newly independent departments. The Department of Communication Studies will remain as a part of the College of Letters, Arts and Sciences, while the Speech, Language, Hearing Sciences Department is now housed in the College of Professional Studies as part of the Health Institute.
"This decision (to separate) emerged from last year's reorganization conversations," said Dan Lair, associate professor and chair, Communication Studies. "Our two programs had been really working to find ways that we could integrate and be more closely connected, but (given our different approaches to the study of communication) … we were putting a lot of energy and effort into inventing ways to collaborate. Now, those collaborations will continue, but they'll be much more authentic and organic."
"At all levels, there was always the question of how we make this change in a way that supports both departments," said Jessica Rossi-Katz, professor and chair, Speech, Language, Hearing Sciences. "This was really a homegrown decision and done in a remarkably collaborative and collegial way."
Both educators hope the reorganization increases the visibility of both programs and creates a more direct path for students to find the degree program that best aligns with their academic and professional goals. For example, Rossi-Katz hopes the move will support SLHS' strategic-plan goal of developing a Speech-Language Pathology master's degree program.
Currently, only one in every seven SLP graduate-program applicants is accepted to one of Colorado's two in-state programs. Unsuccessful applicants often leave the state, pursue distance degrees or "exit the off-ramp in terms of their career goals," Rossi-Katz said. The SLHS master's degree proposal is undergoing a viability-and-sustainability study. If it's successful, a proposal could go before the graduate council and trustees this fall.
"Speech-language pathologists and audiologists typically practice alongside other allied health professionals," Rossi-Katz added. "Being nested in CPS, our students will have ready access to fields like social work, nutrition, nursing and counseling. Collaboration absolutely happens across colleges, but there is that ease of information transfer when you're housed in the same academic unit."
Lair notes that the administration-supported move also has benefits for Communication Studies, allowing faculty to focus on their strengths and strategic initiatives. This includes adding a group collaboration lab to their existing presentation lab in hopes of developing a Center for Professional Communication, and a revitalized debate program. "We will continue to collaborate (with SLHS faculty) because we like working with each other and we both deal with communication, just from very different perspectives," he said.
Both programs will remain in their shared physical location at Central 120 for the foreseeable future. Lair and Rossi-Katz encourage students and colleagues to reach out with questions or to visit each program's new website for more information.
Edit this page