Early Bird
MSU Denver joins cohort to increase use of free textbooks
The University will participate in the OpenStax Institutional Partner Program to expand use of open educational resources.
August 15, 2019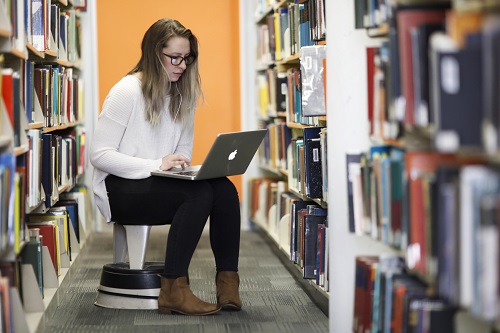 Expanding on its commitment to educational excellence and accessibility, Metropolitan State University of Denver has joined the 2019-20 OpenStax Institutional Partner Program. OpenStax, an initiative of Rice University, encourages the use of free, high-quality, peer-reviewed textbooks and affordable educational technology designed to improve learning outcomes.
MSU Denver is one of only a handful of institutions invited to join the 2019-20 cohort. The University was selected to participate in this strategic partnership following a rigorous application process that included demonstrating a willingness to drive adoption of open educational resources. In joining, MSU Denver will support and expand existing campus efforts to bring free and open educational materials to students. The University will also receive individualized consulting from OpenStax and will join a community of institutions advocating for OER.
"President (Janine) Davidson has made it clear that her top priority is 'students, students, students.' Thus, I am very excited about this additional opportunity for MSU Denver to serve its students with yet another free, high-quality resource," said Provost Vicki Golich, Ph.D.
MSU Denver received a $60,000 grant from the State of Colorado in February to support OER efforts, including several Open Textbook Review workshops and OER Faculty Learning Communities as well as an OER adoption grant program. Faculty can receive stipends for writing open-textbook reviews, participating in the FLCs and adopting OER in their courses. Applications for the Aug. 30 Open Textbook Review workshop, which provides $200 stipends upon review completion, are due Aug. 26. For faculty members who are ready to adopt, $750 faculty OER adoption grants are available. Those interested in applying can do so by Sept. 15.
"We support faculty exploration of the increasing number of high-quality open educational resources and the thoughtful integration of these materials into the classroom," said Emily Ragan, Ph.D., associate professor, Chemistry and Biochemistry. "Our department selected an OpenStax textbook for our General Chemistry series after piloting it in an online section of the course. Faculty appreciate the quality of the book and that we can count on all of our students having access. Students appreciate that they can access the book for free online, download a free PDF that is theirs to keep or purchase a hardback copy that is substantially more affordable than the previous texts we used."
According to a 2018 study, the Impact of Open Educational Resources on Various Student Success Metrics, educational outcomes increased among all students using OER. Institutions using OER saw grades improve by an average of 8.6%, while the average DFW rate decreased by 2.68%. Among Pell Grant-eligible students, the numbers were even higher, with grades improving by 12.3% and the DFW rate decreasing by 4.3%.
OpenStax reports that institutional partners increase the number of students affected by OER by an average of 158% after completing the first year of the Institutional Partner Program. To date, the program has resulted in $19.6 million of additional student savings from OER.
Topics: Academics, Student Success
Edit this page