Early Bird
Civic Inspirations: an anchor institution's impact
What happens at MSU Denver matters … on campus and far beyond.
August 15, 2019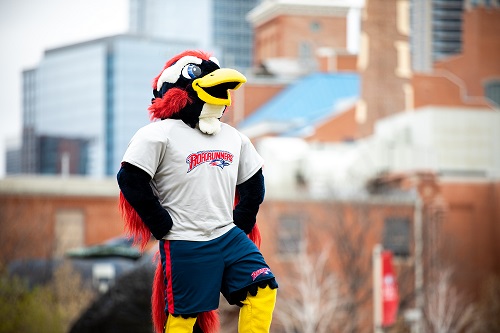 Have you ever thought about how Metropolitan State University of Denver serves not only our students but also our surrounding communities? By educating the diverse student population that earns degrees here, we are affecting numerous individuals and families who live in metro Denver.
But does our impact go further? The Coalition of Urban and Metropolitan Universities is asking universities across the country to consider this very question – and MSU Denver has been part of the pilot group exploring the role of universities as "anchor institutions" around the country.
The concept of an "anchor" refers to an institution such as a university or hospital that is rooted in the local community by mission, invested capital or relationships to students, employees and vendors. Anchor institutions can bring crucial benefits to the community – according to CUMU and the American Democracy Collaborative, U.S. hospitals and universities combined spend over $1 trillion a year, have endowments in excess of $500 billion and employ 8 percent of the U.S. labor force.
In relation, the University has a substantial regional impact. MSU Denver purchases goods and service totaling over $170 million each year, employs over 2,000 professional staff and faculty (as well as roughly 1,200 student staff) and invests over $20 million. All of this adds up to what could be a major effect on our local community through purchases we make, people we hire and where we invest our portfolio.
A rough analysis of spending through MSU Denver corporate cards suggests that these purchases largely support Colorado businesses, including minority- and women-owned businesses. But the questions remain: Could we do more? Could we, for example, think more intentionally about whom we hire when we need catering?
Anchor institutions also affect communities by dedicating resources such as professionalism and energy in local endeavors. Recently, students from the Industrial Design, Communication Design and Nutrition Departments joined forces with neighbors from La Alma-Lincoln Park and Denver Botanic Gardens to develop a prototype of a "Little Free Library" for backyard garden produce. Other faculty members across the University have engaged in numerous projects and initiatives with local nonprofits or community organizations throughout the state.
It's just another example of Roadrunners making a difference – and how what happens on campus reverberates far afield out into the world.
Stay tuned to future editions of Civic Inspirations to learn more about how you or your unit might contribute to MSU Denver's impact – or contact Elizabeth Parmelee to share what you are already doing.
Edit this page