Early Bird
West Classroom health investigation complete
Tests reveal no connection between cancers identified in MSU Denver employees and West Classroom.
August 12, 2019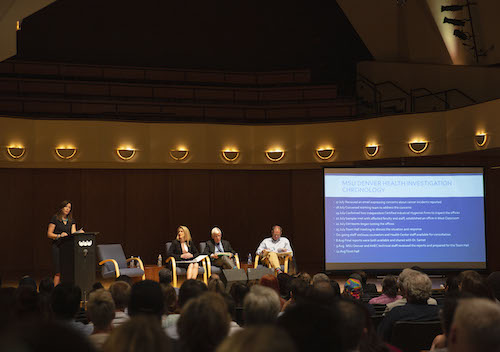 Leaders from Metropolitan State University of Denver and the Auraria Higher Education Center today reported that the environmental health investigation of West Classroom did not reveal a connection between cancers identified in employees and the building.
Results were shared at a town hall meeting in the King Center concert hall and livestreamed for those who couldn't attend in person; recorded video of the event is available here.
"Let me start by saying that these types of situations are never easy," said President Janine Davidson, Ph.D. "Emotions run high. Rumors spread. And it makes everyone feel a little on edge. But I want you all to know that there is nothing more important to me, and any of the leaders on my team, than the health and well-being of our Roadrunner community."
MSU Denver and AHEC worked with two independent Certified Industrial Hygienist firms, CTL Thompson Inc. and ATC Group Services LLC, to conduct comprehensive environmental testing in the area of concern, where three current employees diagnosed with cancer worked in adjacent offices.
Neither firm's report indicated an alarming presence of contaminants. Based on visual observation, meter monitoring and analytical results, the environmental parameters were within the typical ranges for indoor air quality for an occupied office building and well below the applicable regulatory limits.
The full reports are posted on the University's health investigation FAQ.
Town hall speakers included Larry Sampler, chief operating officer at MSU Denver; Colleen Walker, CEO of AHEC; and Jonathan M. Samet, M.D., a pulmonary physician, epidemiologist and professor and dean in the Colorado School of Public Health. President Davidson facilitated the meeting.
Leaders thanked those who'd shared their health concerns and said they would respond to every email with contact information for the Colorado Department of Public Health and Environment, which tracks occurrences of cancer in the state, looking for patterns or alarming clusters. Moving forward, leaders encourage those with concerns about cancer linked to the Auraria Campus to contact CDPHE directly via the toxicology hotline at 303-692-2606 or by email at CDPHE_ToxCall@state.co.us.
"Our buildings are built to code," Walker said. "Yes, they are over 40 years old. Yes, they are getting tired, but they are also maintained to code … We have an entire team at AHEC … that is committed to one thing – the health and safety of our campus."
Edit this page