Early Bird
Enrollment-success event this week in JSSB
Roadways setting up service hub Tuesday-Wednesday in JSSB for all eligible students who haven't registered yet.
August 12, 2019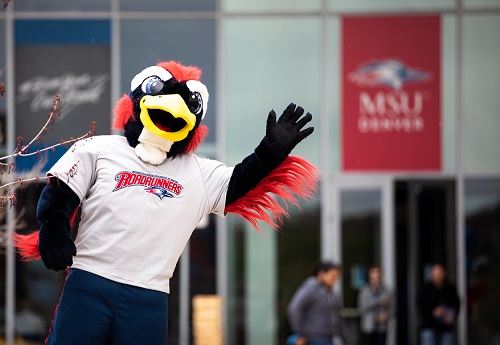 The value of a college degree in Colorado's economy isn't in question. A diploma may be, however – if Roadrunners fail to stay connected to the University along their individual roads to graduation.
That's why the Office of Enrollment Management is setting up shop in Metropolitan State University of Denver's Jordan Student Success Building from 8 a.m. to 5:30 p.m. Tuesday and Wednesday to help get all eligible students who are not yet enrolled in classes connected to the resources they need to succeed.
"We will be attempting to get students into the JSSB to help them resolve any issues – holds, financial aid, residency and the like – that may be blocking their registration," said Lunden MacDonald, Ph.D., executive director of Roadways, the MSU Denver student-success initiative coordinating the event. "Essentially, we are trying to get students to campus to do what it takes to get registered, and the JSSB offices are here to help."
Registration- and success-related services include:
Financial-aid assistance
Residency-petition status and information
Answers to transfer questions
Drop-in appointments with Roadways advisors
Password-reset assistance
Help connecting to academic advisors
Attendees can get free pizza from 11 a.m. to 2 p.m. with drinks and snacks throughout and can enter drawings for scholarships and priority registration.
For more information, contact Lunden MacDonald.
Topics: Academics, Enrollment, Financial Aid, Student Affairs, Student Success
Edit this page