Early Bird
A tough act to follow
Memories make exiting the stage after 32 years a tricky trek for retiring professor Marilyn "Cookie" Hetzel.
August 1, 2019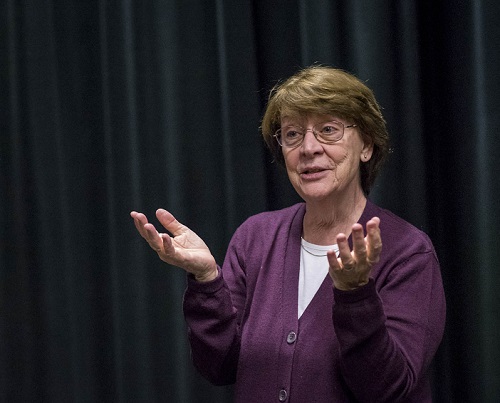 The three toughest words for a retiree to utter might be: "I still care."
This is Marilyn "Cookie" Hetzel's dilemma. The Metropolitan State University of Denver theatre professor began her transitional retirement June 30 — and recently spoke with the Early Bird about her 32 years of transformative work with Roadrunners.
As Hetzel (known widely by the nickname given by her grandfather) reminisced about those years, emotion hovered in her voice. To accomplish all she did, she had to care deeply about her students, her colleagues and her program. That dedication and commitment snowballed over her three-plus decades with the University.
Hetzel described the theatre as "a sacred place."
"It was an honor to work in it," she said. "It's where I feel most in tune with life and alive. I just never lost the passion."
That passion was ignited when Hetzel was 6 years old and portraying her first on-stage character, a chicken. Hetzel laughed recalling the role, then added that her parents were supportive. "They were ballroom dancers always dancing around," she said. "They saw (talent) in me, but there was also a need to support myself."
Hetzel earned an education degree and began teaching in Chicago at age 20 while freelancing in the theatre world. She went on to earn her master's degree and Ph.D. in communication and theatre and then taught in Wisconsin and on Semester at Sea through Penn State. When she came to MSU Denver in 1987, she was asked immediately to build a music-theatre program.
"That was one of my favorite parts of theatre, and I said, 'OK.' That has been the response every time I'm given a new challenge," she said. "Someone asked, 'Can you do this?' and I say, 'Sure.' Then I'd say to myself, 'How am I going to do this?'"
Hetzel always found the answer. Along with the music-theatre program, she overhauled the entire department, adding degrees and a minor program. She also directed more than 50 plays and musicals, developed several original "theatre for social change" touring companies and developed a professional educational-theatre touring partnership with Kaiser Permanente, which is in its 11th year. In 2012, under her leadership, MSU Denver's Theatre program received National Association of Schools of Theatre accreditation; the program was reaccredited this year.
Along the way, Hetzel has won a bookshelf full of awards, but accolades are not her biggest motivators. "It's all about the students," she said. "I wanted them to learn how to focus when they need to focus, by choice — that's one of the most important things we could teach."
Hetzel came to see theatre as "equipment for living" that teaches students "skills they can apply to any commitment they might see in the world."
To keep those kinds of lessons alive, Hetzel and Theatre Production Manager Megan Euler created the Dr. Cookie Hetzel Endowed Theatre Scholarship in 2015. "We wanted something permanent," Hetzel said.
She added that she'll stay involved in the theatre program by helping out where needed. "You don't retire from theater; you transform to do something else," she said.
That transformation will mean more time for creative projects, hiking, reading and traveling.
As she recalled one of her favorite memories – a department party to celebrate her contributions in a room full of those she'd worked with over the years – Hetzel lost the fight against the tears.
"I'm just trying to synthesize all the memories," she said after a few moments. "I feel deeply about this program. When I don't feel deeply, I'll be dead."
Topics: Arrivals and departures
Edit this page