Early Bird
Hello, my name is … Nona Shipman
The associate director of the OWOW Center says she is most herself in, near or floating on water. Her dog is, too.
July 9, 2019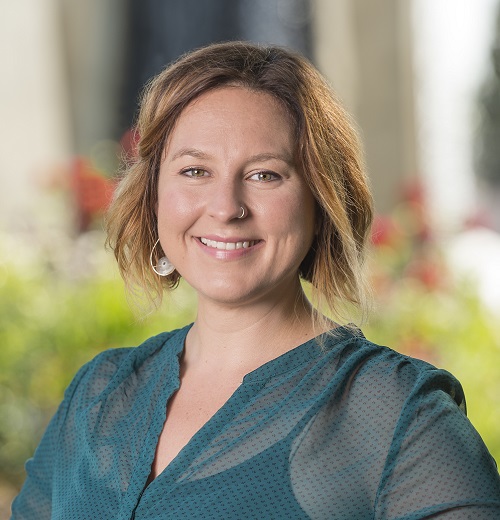 It's no surprise Nona Shipman landed at the One World One Water Center, the partnership between Metropolitan State University of Denver and the Denver Botanic Gardens that tackles water issues.
"I've always been interested in water," Shipman says.
She was waterlogged growing up: swimming competitively, coaching swimmers, lifeguarding and vacationing annually on the North Carolina coast.
Even when she moved to landlocked Colorado in 2011, she found a job with Water Education Colorado as an AmeriCorps VISTA.
"I have always been very environmentally motivated, and AmeriCorps VISTA allowed me to join a community that made me feel inspired and excited," she said. "Water has always been a constant thread throughout my life. I feel most myself when I am in, near or floating on water. Incorporating water into my career … seemed like a natural progression."
Shipman joined the OWOW Center as the outreach and recruitment manager in 2013. In 2017 she was named assistant director, and earlier this year she was promoted to associate director.
What does the average Coloradan need to understand most about water here?
Water is truly connected to everything we do, especially in a state that feeds so much water to millions of people downstream. It's important for us all to understand the role water plays in our lives and the impact we make on water. The OWOW Center intentionally designs all of our projects to be interdisciplinary so that anyone — regardless of major, interests, career, or passions — can learn about water resources in Colorado.
What water issue keeps you up at night?
Climate change. If you think about it, climate change is so much about water — too much of it, not enough of it, contamination of it, melting of it, etc. I think about whether Colorado will get the snow pack it needs each winter to stave off drought for another year. If there will be a horrendously damaging hurricane where many of us have family members living. If we'll see the end of wild polar bears in the next 10 years because of melting glaciers impacting their food sources.
In 2018, the OWOW Center led two study abroad classes to Perugia, Italy. Can you share a little about the program?
Italy and Colorado actually have a lot in common. The average precipitation is similarly variable in both places, each with very wet and very dry areas. So participants in the study abroad course learned about the history of Italy, the ancient Etruscan water features in Perugia, the current state of water in Italy, technology developments and how Italy's long and rich history can help influence our water future. The plan is to continue the trips to study the unique water systems and to learn from our colleagues there.
We hear you and your dog, Mavett, are avid hikers. Does he like water, too?
Mavett loves to swim! I bought a duckie a few years ago and spent a summer training him to chill in it while I paddle around. Sometimes he really just can't stop himself from jumping overboard to chase a fish or duck. He never seems to complain about getting outside the city, and he rarely tires out before me. He is always ready for more adventure and keeps me on my toes.
Topics: Hello, My Name Is
Edit this page