Early Bird
Navigator program reconnects former students to campus
Inside the grassroots effort to reengage and reenroll stopped-out students – and why it's working.
July 31, 2019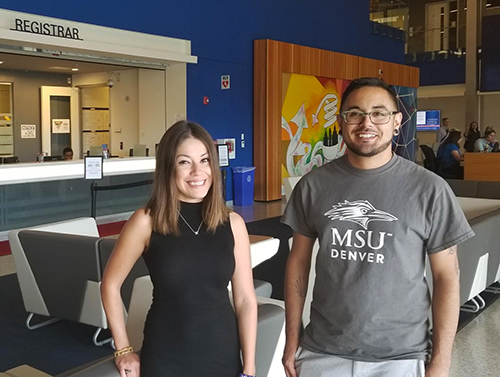 Each week, Ana Rosa Carrera and Charles DeHerrera, Metropolitan State University of Denver's student-success navigators, make hundreds of phone calls, mail hundreds of postcards and send hundreds of emails. Their goal: to invite MSU Denver students who have stopped out back into the Roadrunner flock. It's a big job, but Carrera and DeHerrera (both MSU Denver alums) are making a big difference.
The navigator initiative began in July 2018 thanks to a partnership with the Denver Chamber of Commerce. After establishing a high-school-level program, the Chamber worked with MSU Denver to pilot a college-level initiative aimed at reengaging opportunity youth (ages 18-24) in education or career support. Various MSU Denver staff reached out to 730 students who had left the University without reenrolling in another institution. The grassroots effort resulted in 47 students readmitted and 17 reenrolled for the fall 2018 semester.
This year, those numbers have grown substantially.
Thanks to additional grant funds from Vice President for Student Affairs Will Simpkins, Ed.D., and the Office of Sponsored Research and Programs, Carrera and DeHerrera were hired and since April have reached well over 1,000 former Roadrunners. To date, 101 students have reenrolled (with more on the way) in an average of 10 credits each.
"Navigators reach out to each stopped-out student about five times," said Matt Kring, associate director of Roadways Advising. "Some aren't interested, but others say they've been thinking about coming back and this is the boost they needed. We also try to connect students that don't choose to return with the Chamber of Commerce for career support, as we are still committed to their success."
"The number of students that have reenrolled highlights the impact Matt and his team have had," said Nahum Kisner, director of Student Support and Retention. "Having staff dedicated to reengaging students is relatively new, and … these results show how relevant this work is.
"When students choose MSU Denver, we all have a responsibility to make sure they have the support they need," Kisner continued. "But there is a reason those students left. So, it's also our responsibility to provide them with an extra layer of support to make sure that this time around is more successful."
In many ways, Carrera and DeHerrera are that extra layer of support. The navigators connect returning students with an advisor and resources, then assist them in registering for classes and applying for financial aid. The navigators sometimes even provide literal navigation by walking returning students to an unfamiliar building or office. For Kisner and Kring, building that positive collateral and goodwill is critical – and the result of many departments working together.
"Financial Aid, Admissions and other departments have been instrumental in supporting this endeavor," Kisner said. "That's the MSU Denver way; we're very grassroots. Anything we do here, we could not do it as successfully without collaboration."
Topics: Community, Enrollment, Student Success
Edit this page