Early Bird
West Classroom town hall and safety update
Building deemed safe; environmental testing underway with results due Aug. 8.
July 26, 2019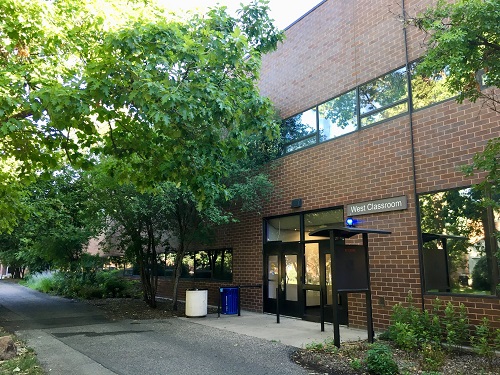 Larry Sampler, vice president of administration and finance at Metropolitan State University of Denver, and Colleen Walker, CEO of the Auraria Higher Education Center, held a town hall forum yesterday to address concerns about four employees diagnosed with cancer who worked in the same West Classroom office suite.
"The safety of our people is first and foremost," Sampler said.
While previous testing of West Classroom, for both lead and asbestos, provided no evidence that the building is unsafe to occupy, Sampler said that "out of an abundance of caution" AHEC and MSU Denver have contracted with two companies to test for environmental safety in the suite. Those tests are already underway, and results should be available by Aug. 8. No other areas of West Classroom or Auraria Campus buildings are being investigated at this time.
These independent evaluations will include a certified industrial hygienist to review the findings and will be benchmarked against Occupational Safety and Health Administration and Environmental Protection Agency standards. The assessment will surpass the standards currently set for state buildings. The campus community will be updated on results as soon as more information becomes available.
"We're being as data-driven as possible in this process," Sampler said, "which is what led us to the decision not to evacuate the facility while pursuing this in a deliberate, rational manner, as seriously and transparently as possible."
You can watch a video of the entire town hall meeting here. The University also created a frequently asked questions webpage with additional information.
If you have questions or concerns, speak with your supervisor, chair or dean. In addition, don't hesitate to contact MSU Denver's Office of Human Resources at 303-615-0009 or hrinquiry@msudenver.edu.
Edit this page