Early Bird
Crisis contact info now on MSU Denver IDs
The University is helping lead the way in connecting students with 24/7 mental-health support.
July 24, 2019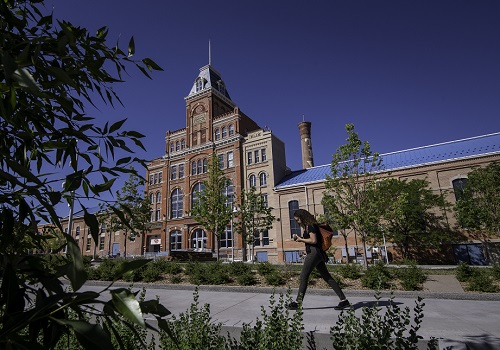 A trend is gaining momentum nationally to improve mental-health access for students by providing contact information for support services on the back of university ID cards – and Metropolitan State University of Denver is helping to lead the charge.
Beginning this fall, all University ID cards will be printed with contact information for 24/7 mental-health support. This includes direct contact information for the Auraria Police Department, Text-a-tip and a Mental Health Crisis support line, offering students round-the-clock resources. The small change, which has potentially big impacts, was a collaborative effort between the Health Center at Auraria, the MSU Denver Dean of Students Office and the Auraria Higher Education Center.
"Over the last year, half of all of the calls placed to the Auraria crisis line were after-hours calls – and a third of total calls fell under the category of safety concerns like suicidal ideation or self-harm behaviors," said Richard Miccio, clinical outreach specialist, Health Center at Auraria. "We know students are struggling, and we want them to know that these resources are available. We also know that mental-health and other emergencies don't follow a 9-5 schedule, so this is a reminder of the support that is available 24/7."
Currently, MSU Denver is the only institution on campus printing mental-health contact information on ID cards, but the trend is gaining momentum around the country. For example, the practice is now a state mandate in California. Several legislators from Louisiana and Alabama have also introduced a bill to improve mental-health access for students, and if this bill should pass, all universities in the U.S. will be required to include mental-health-crisis information on all student ID cards.
For employees interested in other ways of supporting students, the Health Center at Auraria, in collaboration with the Dean of Students Office and the MSU Denver Counseling Center, also offers Gatekeeper trainings for faculty and staff. Trainings prepare participants to identify mental-health symptoms or problematic issues as well as educate and provide resources for those in need. Additionally, Counseling Center staff can help students find ways to manage difficulties through individual therapy, group therapy and crisis intervention.
If you or someone you know is suffering from mental-health issues, please contact the Counseling Center, located in Tivoli 651, Health Center at Auraria or Dean of Students Office for assistance and/or consultation. Faculty and staff can also contact the CARE Team, which provides early assessment and referral when a student's behavior is flagged as concerning, risky, or potentially harmful to self, others or the community. The team makes a good faith review of the information provided and suggests a reasonable course of action to mitigate risk, considering the needs of the individual within the context of the community.
Edit this page