Early Bird
CESA celebrates a successful year
As a new semester approaches, staff members look back on 2018-19 achievements and anticipate more growth beginning this fall.
July 24, 2019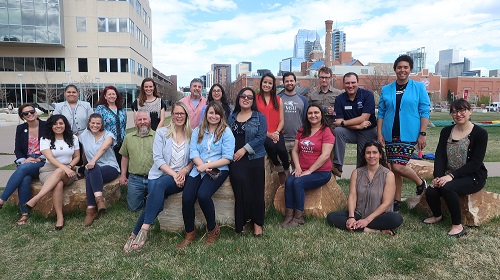 In less than a month, the campus will once again be flooded with thousands of new and returning Roadrunners. Before the fall fun begins, the Early Bird caught up with the Center for Equity and Student Achievement to look back on the 2018-19 year.
Last year, CESA added programs and new physical space — and had great success in promoting equity and inclusion across the Metropolitan State University of Denver campus. Take a look at some of CESA's greatest hits and see how you might partner with the department for 2019-20.
1. CESA started, and supported, important conversations
The CESA team — which includes the Center for Multicultural Excellence and Inclusion, Immigrant Services, TRIO Student Support Services, First-gen Initiatives, Veteran and Military Student Services and the College Assistance Migrant Program — got MSU Denver talking about identity. The office prioritized engaging with faculty and staff about the identities and needs of students by offering several equity- and social-justice-focused trainings. For example, more than 200 faculty and staff members attended the Microaggressions Awareness Campaign, Roadrunners First and LGBTQ Safe Zone trainings.
2. Student-engagement numbers hit four digits
The programs and centers within CESA are committed to supporting students and creating programs and services that honor and celebrate their identities. This focus on inclusion helped CESA offices engage more than 1,000 students, who participated in programs and events.
3. CESA provided valuable student-employment opportunities
During the 2018-19 academic year, CESA hired and trained more than 75 student staff members, a threefold increase from the previous academic year, according to Amber Mozet, coordinator of CESA and special projects. Along with providing financial support for students, these positions focused on building students' understanding of equity and inclusion, campus resources and community-building.
4. Staff secured more scholarship support than ever
"Our staff worked with the MSU Denver Foundation to identify donors interested in supporting unique challenges and opportunities among students served in CESA," said Brandi Scott, associate dean, Equity and Student Achievement. "We advocated for and received more than $150,000 from donors for student scholarships and programming."
5. Students are becoming leaders
"Our students expressed a desire to engage in conversations with their peers about identity, equity and inclusion," Scott said. "To support this need, CESA created the Equity Peer Leader program that will launch this fall."
Six student employees have been hired to facilitate conversations about identity, equity, power, privilege and inclusion with their peers, and will begin their training in August. Scott hopes this program will help foster a greater sense of community, mattering and belonging on the MSU Denver campus.
To learn more about CESA's accomplishments and upcoming work, sign up for the monthly program newsletter or visit the program website.
Topics: Access, Community, Student Success
Edit this page