Early Bird
Health Center at Auraria expanding, modernizing
A renovation will add about 3,800 square feet to meet the diverse needs of the campus community.
July 23, 2019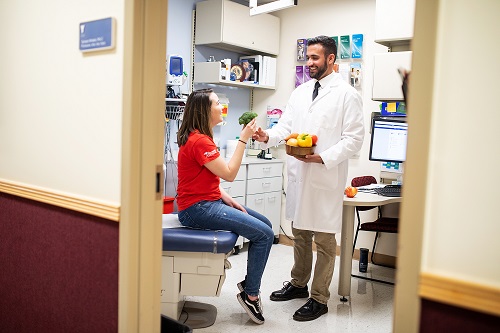 Work will begin Aug. 5 on a significant renovation and expansion of the Health Center at Auraria. This is the first time the Health Center has expanded since it was established in the Plaza Building more than 30 years ago. The project will address the continued growth in demand for health services, which has increased exponentially in recent years.
Health Center officials worked collaboratively with Davis Partnership Architects to plan and design about 3,800 square feet of new office space, which will be adjacent to the existing Health Center facility at Plaza Building 150. The expansion is expected to increase the center's service capacity by 25% to 30%, allowing the facility to house additional medical personnel, including new mental-health professionals.
"As a tri-institutional student service, the Health Center at Auraria is fully committed to meeting the needs of Auraria's diverse population of students, faculty and staff in the years ahead," said Health Center Director Steve Monaco. "Once the project is complete, the new space will integrate seamlessly with the existing Health Center, providing students, faculty and staff with improved access and a modernized clinical environment."
During construction, certain areas within the Plaza Building that are associated with the project will be isolated; however, routine Plaza Building functions and classes will continue uninterrupted. Please note that the Metropolitan State University of Denver Student Health Insurance Office and the Auraria Immunization Office will be relocated temporarily from Plaza Building 149 to Plaza Building 111. Health Center users can access all other Health Center medical services in the current space in Plaza Building 150.
Contractor W.E. O'Neil, selected through a competitive state-bid process, expects to complete work by the end of November. Stay tuned to the Early Bird for more updates as the project progresses.
Edit this page