Early Bird
Learn more about TEDx MSU Denver speakers
Before you attend "Reimagining Possibilities," get a sneak peek at what it takes to bring big ideas to the stage.
July 22, 2019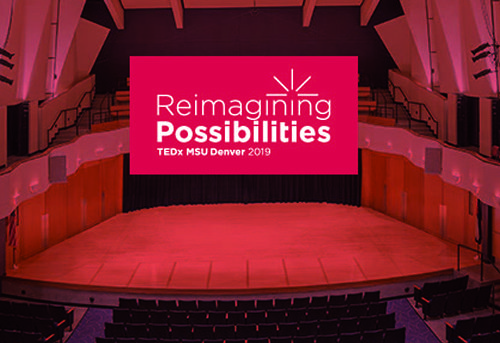 Roadrunners and our community partners are constantly challenging themselves to reimagine what's possible in higher education, in the workplace and on the TEDx stage. Before you attend TEDx MSU Denver "Reimagining Possibilities," learn how speakers are putting ideas into action — and how they're prepping for their moment in the spotlight.
TEDx MSU Denver "Reimagining Possibilities" will feature eight faculty members, three alumni, multiple students and even President Janine Davidson, Ph.D. But attendees don't have to wait until Sept. 12 to get their first glimpse of the action. Each speaker will share regular blog posts as they develop their topic, perfect their delivery and learn how to make the most of their 15 minutes on the TEDx stage. Take a look at posts by Associate Professor David Bechtold, Ph.D., community member Heather Bulk and others.
Visit tedxmsudenver.com often for new blog posts and updates.
Learn more about speakers and performers, then purchase your ticket for the daylong event Sept. 12.
Reimagining Possibilities

TEDx MSU Denver

Sept. 12

10 a.m.-5 p.m.

King Center Concert Hall
Topics: Events, TEDxMSU Denver
Edit this page