Early Bird
Inspired University community looks to the future
800 Roadrunners shared their best ideas for the new Strategic Plan this spring; there's still time to provide your feedback.
July 2, 2019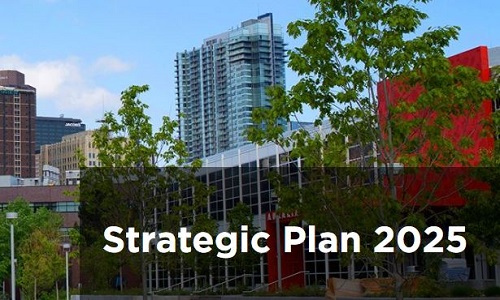 In April and May, Strategic Planning Team members facilitated nearly 55 small-group discussions and two Universitywide Town Hall Meetings with members of the campus community. Between those conversations and feedback received digitally, 800 Roadrunners provided valuable insights and ideas that will guide the University into the future.
Faculty, staff and students can still share their feedback until the end of July by taking a brief survey.
"We are so grateful to everyone who let their voice be heard," said Cathy Lucas, SPT co-chair and vice president of strategy. "We feel inspired by the heartfelt dialogue we've had with our internal community and are already starting to see some common themes emerge."
Co-chair Matt Makley, professor of history, said the unprecedented effort speaks to Metropolitan State University of Denver's commitment to inclusive leadership and transparency.
"You can feel how excited people are about this process," Makley said. "I think part of the team's work has also been to show the community that they are the ambassadors of the University's story and future."
Meanwhile, the SPT is beginning its outreach to the external community. Last week, a survey was sent to 6,000 alumni, community-college partners, high-school counselors, prospective students, parents, employers and industry leaders. The aim is to gather feedback on what people outside the University see as the most pressing strategic priorities in higher education, what values or programs might make a student more likely to attend MSU Denver and what skills might lead an employer to hire the institution's graduates, among other things.
That survey will be coupled with face-to-face meetings with external constituent groups, each composed of 25 people, as a nod to the 2025 plan. These SPT-facilitated discussions will focus on the past, present and future of the University, drawing from the experience and thoughts of 25 alumni, 25 current students and 25 future students.
In early August, the SPT will gather for a retreat to examine the data and select several themes. A white paper will be written about each of the themes and shared with the University community for comment.
Stay tuned to the Early Bird for more information on when the papers will post.
Topics: Strategic Planning
Edit this page