Early Bird
Kudos
Applaud Roadrunners who are fighting hunger, promoting civic engagement and using technology to change lives.
July 2, 2019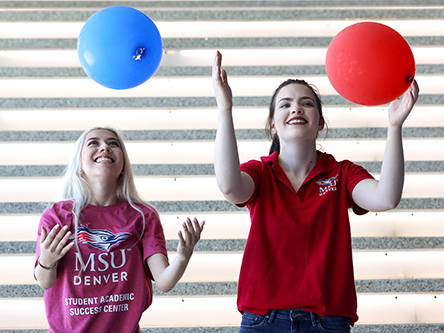 In addition to Faculty Citings, the Early Bird shines a spotlight each month on the accomplishments of Metropolitan State University of Denver faculty and staff. This month, we're celebrating outstanding faculty members and alumni who make us proud.
AnnJanette Alejano-Steele, Ph.D., associate dean, College of Professional Studies, was one of several educators honored in May at the Midwest Campus Compact regional conference in Minneapolis. Alejano-Steele was a finalist for the organization's Thomas Ehrlich Civically Engaged Faculty Award, which honors exemplary leadership in advancing student civic learning, conducting community-based research, fostering reciprocal partnerships and more.
David Bechtold, Ph.D., assistant professor, Management, has been appointed to the Board of Blue Star Recyclers. The 501(c)3 nonprofit creates local jobs for people with disabilities (particularly those with autism) by training them to recycle electronics.
Aaron Brown, Ph.D., professor in the Department of Engineering and Engineering Technology, recently participated in the International Cooperation Congress in Leon, Spain. The event aims to help students pursuing aerospace and mechanical careers to direct their efforts toward humanitarian engineering. Brown, who has also led aerospace-engineering projects for NASA and mechanical-design work for Hubble Robotics, has dedicated his teaching and research activities to humanitarian engineering and was interviewed by Diario de Leon about his efforts.
Three civic all-stars featured in Denverite's recent article Who's Next: Hunger — 10 rising stars in the Denver area are also Roadrunners. Paola Babb (nutrition), Kate Mishara (education) and Ricardo Rocha (biology) are all MSU Denver graduates recognized by Denverite for their work in addressing hunger and fighting food insecurity. Babb is a food-pantry coordinator for Growing Home in Westminster, Mishara founded a free grocery at Wyatt Academy (where she is also director of community engagement), and Ricardo Rocha is the CEO of Abarrotes Bondadosa, a bicycle-powered grocery-delivery service that brings healthy food to low-income neighborhoods. Congratulations from the Roadrunner family!
Recently retired Auraria Higher Education Center CEO Barb Weiske left a lasting mark on the tri-institutional campus. In honor of Weiske's service and dedication to the campus, the Senate Chambers in the Tivoli Student Union were officially renamed the Barb Weiske Senate Chambers on Wednesday.
If you know Roadrunners doing fantastic work to advance University goals and student success, or those doing great work in the broader community, remember to share it with the Early Bird! We want to ensure that all great achievements are celebrated.
Topics: Community
Edit this page