Early Bird
Robert Hazan reflects on 32-year career
The retiring political science professor shares memories of brown-bag lunches, world leaders and resilient students.
July 16, 2019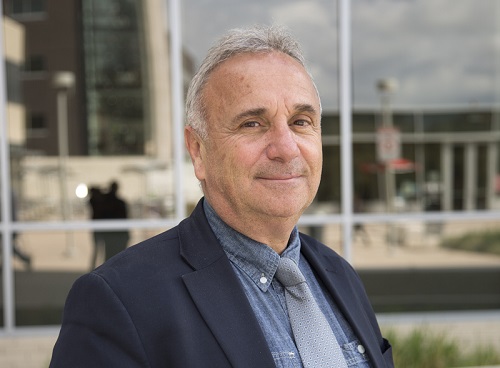 When Robert Hazan, Ph.D., explains how he came to spend 32 years at Metropolitan State University of Denver, it's apparent he was always destined for academia.
"I went to kindergarten and never left school," said Hazan, professor and chair of the Department of Political Science. "I was a pretty good student. I remember being comfortable in classrooms. I didn't dream of becoming a teacher, but … it's one of those things in life that worked out."
Now Hazan, who has become nearly as much of a fixture on the MSU Denver campus as the Tivoli, will retire at the end of the month. In honor of his dedication to the institution and to countless students, the Early Bird asked Hazan to reflect on his experiences at MSU Denver.
One of Hazan's favorite memories is of his first day on the job in 1987, when he was introduced to Political Science Department brown-bag lunches in the West Building.
"They made me develop an attachment to this institution. The faculty would get together, and we would have lovely chats," said Hazan, who grew up in Istanbul and was educated in France and the United States. "Back then, there weren't any neurotic attachments to machines (phones). … It was very special, and it was my first encounter with my colleagues."
Another highlight came in 1997 when Denver hosted the Summit of the Eight. The event brought together leaders from the United States, France, the United Kingdom, Germany, Italy, Canada, Japan and Russia to discuss economic and social issues. After connecting with the City of Denver to get security clearance, Hazan was able to attend.
"Being there felt like an epiphany – it was spectacular to see German Chancellor Helmut Kohl, Tony Blair (prime minister of the United Kingdom), Boris Yeltsin (president of the Russian Federation) and (Bill) Clinton," he said. "You couldn't have any better lab than that."
Hazan parlayed the event into an educational opportunity for his classes by inviting students from each of the eight participating countries to submit papers on social issues. "It was great, and they got credit for their work," he added.
The engaged educator also enjoyed getting an up-close view of democracy in action when Denver hosted the Democratic National Convention. "It was interesting that Denver hosted it and having (Barack) Obama accept the nomination," Hazan said.
When asked what achievement makes him most proud, he mentioned the Political Science Department's growth and change through the years (he served as chair for 18 years), but overall he is most proud of the students' resilience and accomplishments.
"I'll miss teaching students who've inspired me since my first class. They're coming from high school and barely 18, some are much older, some are first-generation students (to attend college), but they won't give up," he said. "They have a passion for learning."
He also recalls handing out diplomas to some of those students at graduation. "It's an honor and privilege to shake their hands. It's an incredible feeling. It has been a blessing to work with (them)."
In his retirement, Hazan plans to stay in Denver "and continue to argue."
"I think it's important to argue about ethics, about justice, morality — about peace," he said. "Multicultural education is important — we have far more to gain by working together, but we can't take that for granted. That's something we learn as we become more educated. At times, we're being pitted against one another, and it's contentious, but we can argue our differences civilly."
Hazan says he has no plans to return to the classroom but adds, "Never say never."
Topics: Academics, Arrivals and departures
Edit this page