Early Bird
Time is running out to take the Strategic Plan 2025 survey
Join more than 800 Roadrunners and share your best ideas and feedback for the new Strategic Plan.
July 15, 2019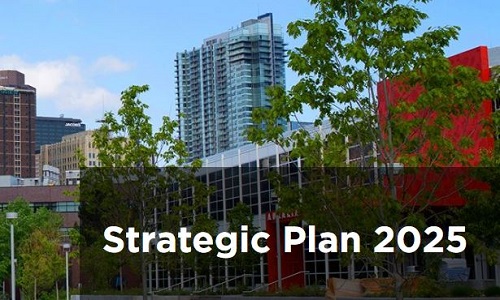 There's still time for Metropolitan State University of Denver faculty, staff and students to share their feedback on the future of our University. The brief Strategic Plan 2025 survey will be open through the end of the month, and all voices and perspectives are welcome.
Through small-group discussions and two Universitywide Town Hall Meetings, more than 800 members of the campus community have already provided valuable insights and ideas that will guide the University into the future.
In addition to this employee and student survey, the Strategic Planning Team is also conducting outreach to the external community. In late June, 6,000 alumni, prospective students, community and industry partners and more received a separate survey on what people outside the University see as the most pressing strategic priorities in higher education. That feedback will provide insight on what values or programs might make a student more likely to attend MSU Denver and what skills might lead an employer to hire the institution's graduates, among other things.
The external survey will be coupled with face-to-face meetings with external constituent groups that focus on the past, present and future of the University. Stay tuned to the Early Bird for white papers about each of the themes.
Find more information on the Strategic Plan 2025 process.
Topics: Strategic Planning
Edit this page