Early Bird
LGBTQ Student Resource Center also a resource for employees
The tri-institutional organization is building community among LGBTQ+ colleagues. Here's how you can get involved.
July 15, 2019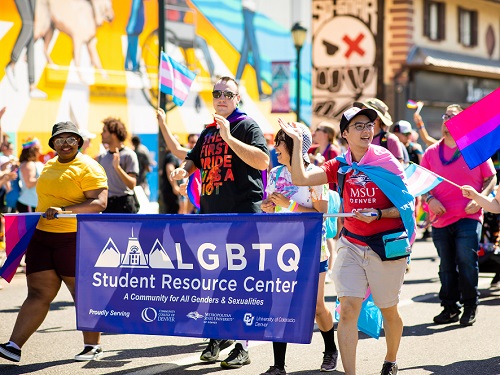 For 26 years, the LGBTQ Student Resource Center has fostered acceptance, understanding and personal growth for the Auraria Campus community. Now, the organization is enhancing its faculty and staff resources by developing a new employee social group.
"We want to give LGBTQ+ faculty and staff the opportunity to connect with colleagues with similar identities to help build community," said Steve Willich, director.
The goal is to host regular social events (likely beginning in the fall semester) that will continue to develop and strengthen connections among LGBTQ+ faculty and staff from all three institutions.
Concurrently, the center is also hoping to increase LGBTQ+ visibility and sources of support.
Willich points specifically to research showing that when students who identify with underrepresented or marginalized groups see their identities reflected in University faculty and staff, their comfort and success increase. To facilitate LGBTQ+ faculty and staff mentorship of similarly identifying students, those employees can now opt in to a new "out list" that will be available as a resource for students. LGBTQ+ employees who are comfortable being identified are invited to email Willich with their name, institution, department, title, work email and telephone number.
Those who would like to be a part of the social group, or be included in a list of out LGBTQ+ faculty and staff, should email swillich@msudenver.edu. To learn more about the LGBTQ Student Resource Center, visit the organization's website or Facebook page.
Edit this page