Early Bird
New minimum wage to affect some student employees
Everything you need to know about budget impacts, next steps and the value of student workers.
July 11, 2019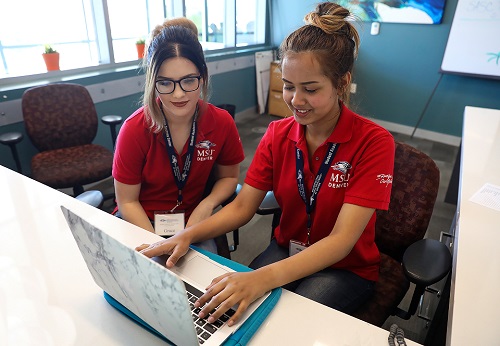 Each semester, roughly 1,200 Metropolitan State University of Denver students add another dynamic to their educational experience, serving the University as gallery assistants, personal trainers, math tutors, writing consultants, videographers and more. Student employment allows MSU Denver departments to thrive and innovate, while also helping students develop professional skills to complement their academic work.
These valuable student contributions prompted MSU Denver to accelerate a scheduled statewide minimum-wage increase. Beginning Aug. 4, the first day of the fall semester, the minimum per-hour student-employment rate will increase from $11.10 to $12. This marks the final planned incremental increase in Colorado's effort to keep pace with the rising cost of living. The increase was originally scheduled to take effect Jan. 1, 2020, for all Colorado employers. However, Gov. Jared Polis signed an order allowing state entities to fast-track the increase.
"Moving up the scheduled minimum-wage increase is reflective of our desire to be proactive in supporting our students and ensuring that they are fairly compensated for their hard work," said Angela Bender, associate director of talent strategy. "Also, because minimum wage has been going up in the state of Colorado, our budgets have been increasing to support student employment. The Board of Trustees already approved a budget that includes the additional costs."
Bender explained that the University's student pay matrix has also been adjusted in anticipation of the minimum-wage increase, and the University has allocated additional base budget to each branch to cover the estimated impact of the minimum-wage increase in fiscal year 2019-20.
As all new paperwork regarding student employment and hiring is required for the fall semester, Bender reminds departments to submit requests at the $12-per-hour rate. If a student employee is already at the $12 rate and a department seeks to pay them above this rate, Bender recommends contacting studentemployment@msudenver.edu to learn more about additional approval steps.
"We understand that in a thriving economy, our students have a lot of employment options, and it's important to keep on-campus employment competitive and valuable," said Will Simpkins, Ed.D., vice president for student affairs. "In addition to providing fair financial compensation, we want to ensure that every student position includes opportunities for personal and professional development."
Stay tuned for future articles on how MSU Denver continues to improve student employment and connect students with paid internship opportunities.
Topics: Compensation, Student Success
Edit this page