Early Bird
C2 Hub debuts new online employment portal
The Career Link platform will better connect students and employers while also generating valuable data.
June 17, 2019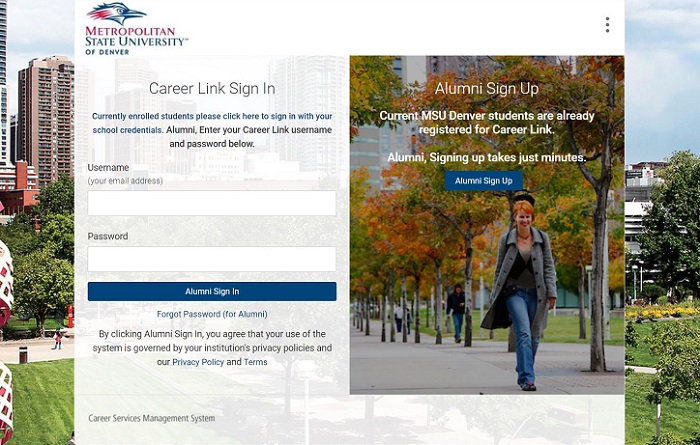 The Metropolitan State University of Denver Classroom to Career Hub debuted a valuable new resource for students and employers at the June 6 Executive Update. Vice President for Student Affairs Will Simpkins, Ed.D., and Executive Director of College-to-Career Initiatives Adrienne Martinez unveiled the new Career Link portal, an online hub for job posting and career exploration.
The portal will streamline the job- and internship-posting process for potential employers and business partners. It improves significantly on the previous two-platform design — which often resulted in confusion and duplication. Already, employers have posted more than 700 job and internship opportunities for students, who can access the same portal with a slightly different user interface.
In addition to connecting students and employers, Career Link is also generating valuable employment data. The more granular data pertaining to how many on-campus interviews an employer has conducted or how many students pursued a particular job posting will help inform larger strategic efforts to engage employers, track industry growth and identify opportunities.
"Career Link represents our overall philosophy for the C2 Hub — that all members of our community are invested in students' career success," Simpkins said. "To that end, eventually, staff, faculty, alumni, students and employers will all have access to this dynamic virtual career center."
To support the C2 Hub's goal of connecting easily to all MSU Denver students, students and employees can access the platform using single sign-on with their existing MSU Denver login and password and do not need to create new credentials, further streamlining the user experience. For a while, students can still access materials uploaded to Career Link's predecessors, TIP and Job Link, which were previously managed by the Applied Learning Center and Career Services, respectively.
Additionally, VMock and Vault are two new resources to help students explore other job-searching and -preparation resources, including salary ranges, lists of high-demand job skills and sample career pathways.
Career Link is also available to alumni, beginning with those who have graduated in the past year, and Martinez has plans to further develop alumni resources.
"I would love to have a better, more comprehensive approach to supporting all alumni," Martinez said. "Engaging alumni in general has lots of pluses: Alumni become more involved in the success of our current students and become more engaged givers."
Topics: Academics, Access, Classroom to Career Hub, Entrepreneurship, Excellence, Student Affairs, Student Success
Edit this page