Early Bird
Vicente Fox and Marta Sagahún to visit MSU Denver Thursday
Faculty and staff are invited to a fireside chat with Fox, Sagahún and President Davidson to discuss Health Institute partnership.
June 11, 2019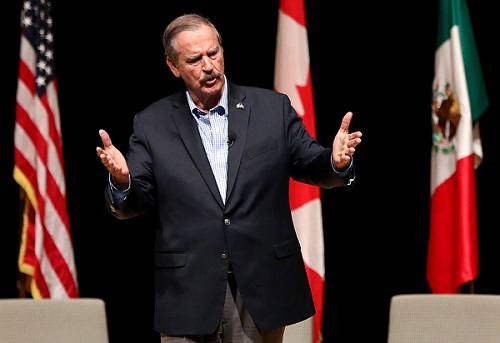 On Thursday, join Metropolitan State University of Denver President Janine Davidson, Ph.D., in welcoming former President of Mexico Vicente Fox and his wife, Marta Sagahún, for a discussion on culturally responsive health services.
A conversation with Vicente Fox and Marta Sagahún

June 13

2-3:30 p.m.

Jordan Student Success Building, CAVEA, 4th floor
Davidson, Fox, and Sagahún will discuss the relationship between the MSU Denver Health Institute and Centro de Rehabilitacio?n Integral de San Miguel de Allende (CRISMA), an organization founded by the Fox and Sagahún to provide outpatient rehabilitation services to families in San Miguel de Allende, Mexico. In January, CRISMA will begin welcoming study-abroad cohorts of MSU Denver Health Institute faculty and students in an information and learning exchange focused on rehabilitation and public-health education and promotion.
MSU Denver faculty and staff are welcome to attend and can RSVP by contacting Kelly Wiedeman, assistant to the dean, College of Professional Studies, at kwiedema@msudenver.edu or 303-605-7055. The event will also include time for audience questions, and all are encouraged to join the conversation. Those unable to attend can view the event via livestream.
Topics: Events
Edit this page