Early Bird
This month in social media
Roadrunners lit up the social media-sphere this month thanks to high-profile visits, big awards and more.
May 30, 2019

A lot of the great conversations about Metropolitan State University of Denver happen online – which is why the Early Bird regularly highlights Roadrunner social-media buzz.
Here are some selections from our social-media pages that help show the real impact MSU Denver has on the lives of students, alumni, staff, faculty and the Denver community.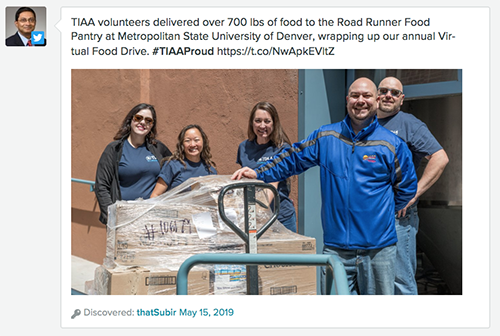 A team from @TIAA (including three MSU Denver alumni) visited campus to deliver 700 pounds of food to the Roadrunner Food Pantry. We are so grateful to TIAA for recognizing and helping to support our Roadrunners!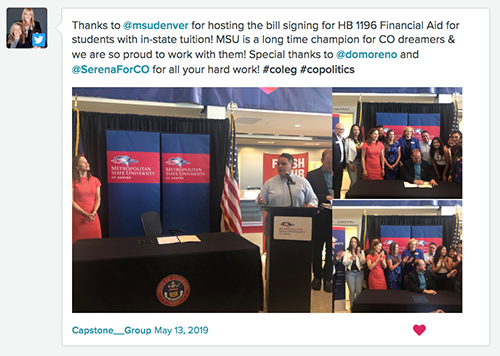 @Capstone_Group (MSU Denver's partner at the Capitol) came to campus to celebrate the signing of two bills by Gov. Jared Polis on May 13. Learn more about the bills and how they support our students.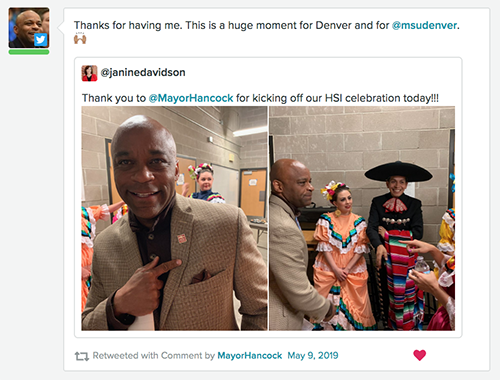 A big thank-you to Mayor Michael B. Hancock, @MayorHancock, who helped celebrate MSU Denver's Hispanic-Serving Institution designation. We are grateful for his continued support.



We had some wonderful Twitter shout-outs from three of our Roadrunners. These inspiring sentiments are great reminders of why we do what we do.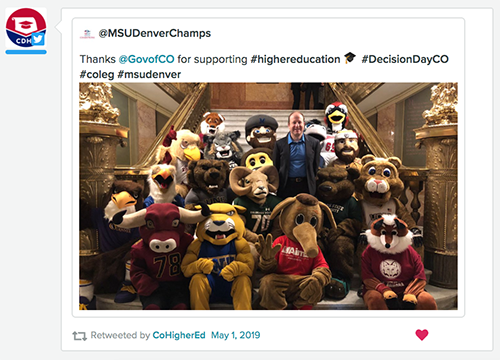 The Colorado Department of Higher Education retweeted a photo of Polis on #DecisionDayCO with many of Colorado's mascots from colleges and universities, including Rowdy.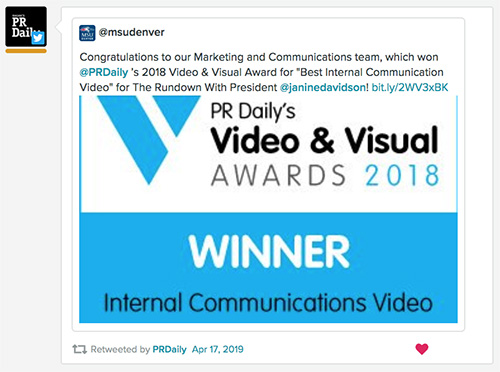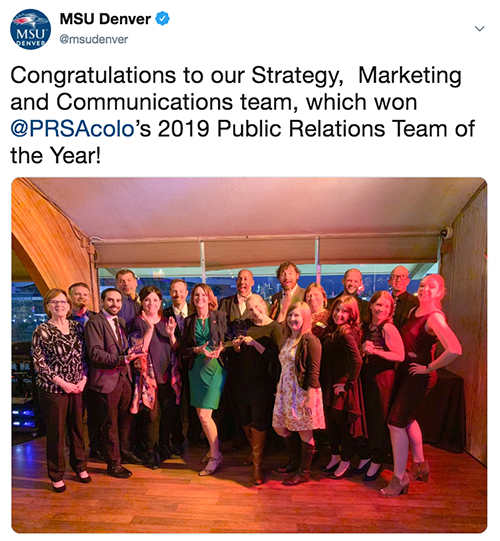 Our Strategy, Marketing and Communications team has won some pretty awesome awards this year, including the PR Daily Award for the Rundown With Janine Davidson and the PR Team of the Year with @PRSAColo. See more about their awards.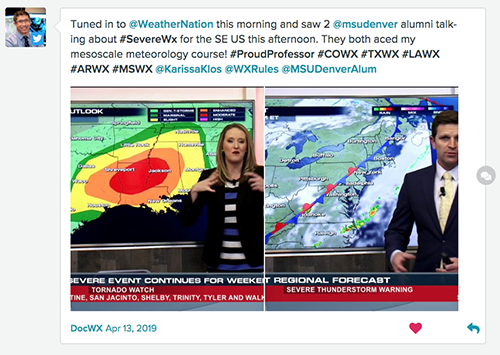 Sam Ng, Ph.D., associate professor of meteorology, noticed some familiar faces on Weather Nation — two of our alumni talking about severe weather.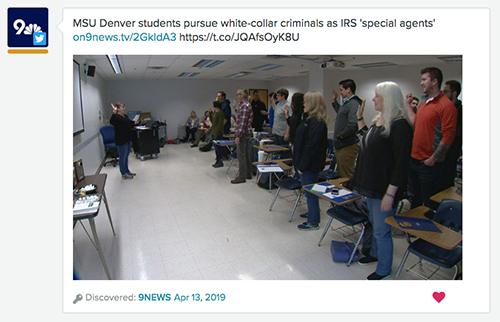 Kevlar vests and battering rams are not what you usually find in an accounting classroom. In a recent fraud simulation, MSU Denver Accounting students learned how these tools might be useful in their future careers — and @9News was there to cover it.
Thanks for your engagement! Keep an eye out for regular social-media roundups, and let us know what you're thinking, too.
Edit this page